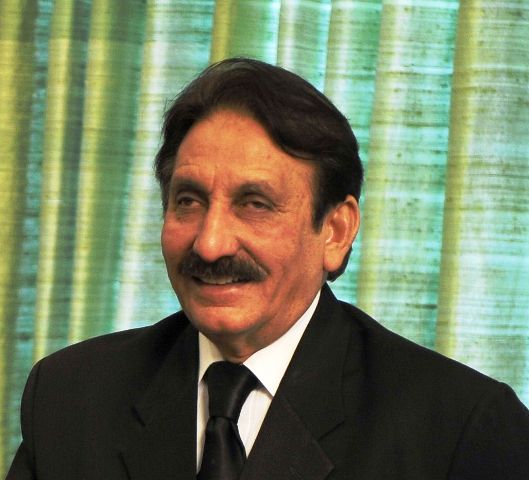 ---
ISLAMABAD:



The nexus between the Supreme Court administration and a private media group was exposed on Wednesday. The said media group published and broadcasted several news items – including some publicity material – a few days before the retirement of Chief Justice of Pakistan Iftikhar Muhammad Chaudhry. In return, the same group was allowed to exclusively cover the full-court reference in honour of the outgoing chief justice.




The media group was favoured at the cost of national and international media. Quite unsurprisingly, several cases are pending adjudication against the same media group in the top court of the country since long.

PPP Senator and lawyers' leader Aitzaz Ahsan said that a private media group has been airing a publicity campaign for Iftikhar Chaudhry at the cost of its own commercial interests. "Today, Iftikhar Chaudhry repaid [the favour] by allowing the same group to exclusively cover the full court reference proceedings," said Aitzaz, who had spearheaded a movement for the reinstatement of dozens of top court judges, including Justice Chaudhry, after they were sacked by former military ruler Pervez Musharraf.




Renowned lawyer Ahmed Raza Kasuri said that Justice Chaudhry used to sit silent in courtroom No 1 during proceedings. "The moment the reporter of one media group entered the court, he would unleash a barrage of observations and remarks," he added.

Journalists from other news channels staged a protest against the discrimination displayed by the court administration in the premises of the Supreme Court on the occasion of the retirement of the outgoing chief justice. They demanded the new CJP hold an inquiry into the incident.

Hameed, the secretary of the outgoing chief justice Chaudhry, explained that the services of a private cameraman were acquired. "The cameraman was asked to provide the footage to all TV channels, but he provided footage to one specific channel only," he said.

The journalists, however, did not accept his stance and maintained that the incident happened according to a plan prepared in advance. They said that a few employees of the apex court were also involved in the conspiracy and demanded an independent inquiry.

The president of the Supreme Court Bar and the vice-chairman of the Pakistan Bar Council also supported the journalists' stance and joined them in demanding an inquiry.

The Supreme Court provided no explanation regarding the incident till the filing of this report.

Published in The Express Tribune, December 12th, 2013.
COMMENTS (31)
Comments are moderated and generally will be posted if they are on-topic and not abusive.
For more information, please see our Comments FAQ