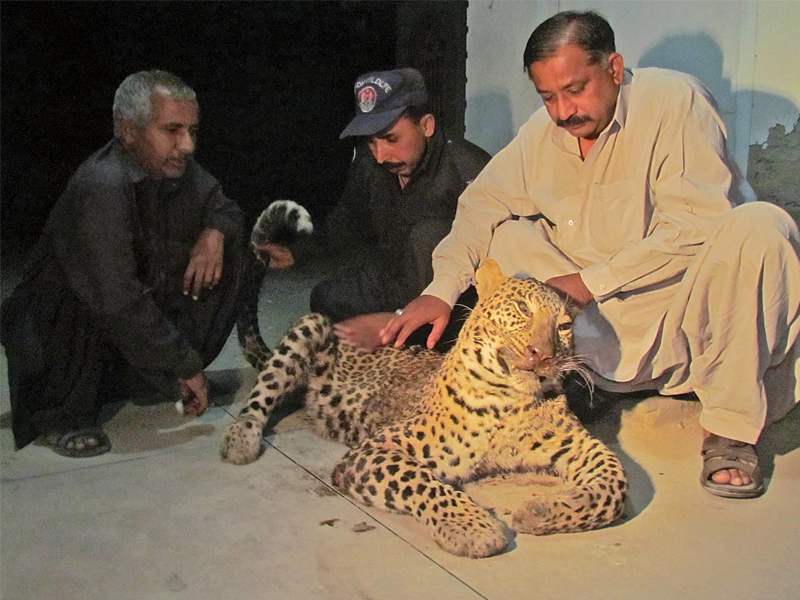 ---
SUKKUR: A leopard that entered a village near Sukkur was gunned down by some of its residents on Tuesday morning.

The animal, an adult male of around nine years, entered the underlying areas of Shah Bello and was about to attack the goats and buffaloes roaming the streets when some residents spotted it. By the time the wildlife department reached, some men had already killed it.

According to a resident, they heard the goats and buffaloes howling and rushed out of their homes. Most of them had never seen a leopard in the area so they became scared and opened fire at the animal. He died on the spot. He insisted that they informed the wildlife department as soon as they spotted the leopard but they did not turn up until the animal had already been killed.

However, wildlife department Sukkur's deputy director Ghulam Muhammad Gadani claimed the team rushed to the village immediately after receiving the information. The leopard had already been killed by some men who escaped when the team reached, he added. Gadani was of the view that the animal had either crossed into Pakistan after the floods or escaped from captivity in Punjab, where many people keep them as pets.

A wildlife department team shifted the leopard to their office on Shikarpur Road in Sukkur on Tuesday night, said Gadani, adding that the dead animal will be shifted to Karachi, where it will be stuffed. The police have, however, registered a case against unidentified men and investigations are under way.

According to Gadani, the type of leopard killed on Tuesday is mostly found in the Swat Valley, the Himalaya range, some parts of Balochistan, particularly Makran district, and India.

A pair of Indian leopards was spotted in Kirthar National Park near Thana Bola Khan back in 1984 but it went missing later.

Published in The Express Tribune, December 5th, 2013.
COMMENTS (5)
Comments are moderated and generally will be posted if they are on-topic and not abusive.
For more information, please see our Comments FAQ