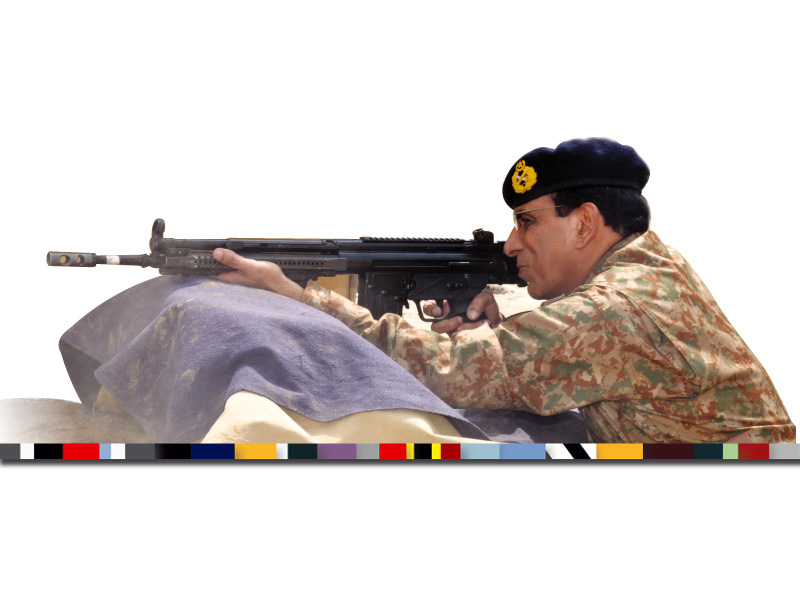 ---


Pakistan's taxpayers didn't pay General Ashfaq Parvez Kayani for making late-night calls during the judicial crisis of 2009, when he would ensure all sides hold off from committing democratic suicide.




He did it anyway, along with other contributions, at no extra charge: A bonus of statecraft, thrown in for free by an army general who was essentially the repairer-in-chief of the pilotless ambulance Pakistan was riding in shock from Pervez Musharraf's inflictions.

But what about his real job for the last six years and ten days, averaging from around 0730 hours till around 0300 hours, mostly six or even seven days a week?

The snapshot is that it wasn't pretty. The world's sixth largest fighting force found itself in the eye of the storm, taking body blows from regular threats flung by terror groups.

Pakistan's writ was being eroded, with high velocity and ferocity, in the cities and on the new, jagged frontlines of Fata. Intelligence gathering was a mess, as the networks were snipped, eroded or burnt by the blowback from groups not in Aabpara's control.

Counterterrorism was a course only a select few in the Special Services Group were exposed to.

Balochistan was a human rights nightmare, and too over-publicised for the heavy-handed Musharraf approach.

With India, the ceasefire from 2003 was holding, and would hold through the Mumbai attacks of 2008. But New Delhi was pushing the envelope with a new "war first, mobilise later, talk last" doctrine called Cold Start.

Meanwhile, the coffers were empty; Washington was using the Coalition Support Funds as leverage.

The army was too conventional, the new threats too visceral, the resources too scarce, the environment too dynamic and the reputation too abysmal.

That's when the Kayani Doctrine started.

When he initiated them, the operations of Raah-e-Raast and Raah-e-Nijaat in Malakand and South Waziristan were as much experiments as they were assaults. The army did not just have to fight; they had to rewrite their training manuals on the fly.

With large, India-centric formations that were trained for mechanised and armour assaults in the plains of Punjab and deserts of Sindh, artillery exchanges, ambushes and patrolling on the LoC, and high-altitude alpine tactics in Siachen, engagements in Fata were both a culture and operational shock. The casualties were high. The New York Times reported in 2011 that Pakistan Army has an "unusually high ratio of one officer killed for every 16 soldiers since it began fighting the Taliban".

Daunted by a faceless enemy, without clear rules of engagement and standard operating procedures, their deployments politicised by the drones above and the Taliban propaganda machine on the ground, Kayani's "Punjab-heavy, India-centric" army, as it was criticised by the experts, took a lot of damage before eventually gaining ground.

The Frontier Corps was just marginally more functional and disciplined than the Levies and Khasadars. Unlike Malakand, Fata didn't even have cops.




There was no counterterrorism (CT) or counterinsurgency (COIN) doctrine, period.

And so he built. And risked. And tried. And learnt. All at the same time.

For morale, his first years saw him declare 2008 the Year of the Soldier, enhancing the housing and facilities of regular troops – not officers. Eventually, he would build more military hospitals, and even a rehab facility for those troops who would lose their limbs in vicious IED attacks. The son of a JCO would also invest in the re-training and marksmanship of non-commissioned soldiers. He would honour the war dead with a new holiday, Yaum-e-Shuhada. He would give war widows flats, and war-orphans schools and commissions.

In the realms of counterterrorism out west, Pakistan Army would introduce "pre-induction training" to units, not just dropping them with weapons and rations into a forward location. From village clearance to lessons on the "riwaj", or the local way, from learning tribal linkages to even Pashto, Kayani's officers would learn how to lead smaller, more tactical deployments that would aim to be swift enough to deal with insurgents and discreet enough for the locals.

There were mistakes and gaps, of course. Old school artillery barrages and aviation strikes would create a wave of IDP crises; holier than thou attitudes of officers would upset the delicate tribal and political balance; but Kayani's new CT route was new and bold, and was (and is) being worked in and worked on, especially by the then Inspector General of Training and Evaluation. You may know him: he's none other than Raheel Sharif, the new army chief who took over from Kayani on Friday.

Counterinsurgency was a whole other ball game. Kayani's America-like WHAM (Winning Hearts and Minds) strategy couldn't be implemented in the American way: With a flood of dollars and outsourced execution by an invading force that was looking at withdrawal deadline and tick off items on a to-do list. Pakistan's troops were fighting to stay, not leave, and nor were they well-resourced or well trained in this environment. Still, WHAM has shown results. The roads built by his Corps of Engineers and the FWO are communication lifelines for now, with the potential of becoming commercial arteries. There is a girls school in a place like Sararogha, South Waziristan, once the headquarters of Baitullah Mehsud's TTP.

On the other hand, the murky drone policy of this army remains the elephant in the room. Official positions are well stated, but some of Kayani's most senior commanders have often admitted privately, and even publicly once, that the drones work. Now, many are saying that North Waziristan needs a "mop up" operation as the militants are "holed up." They say now Nawaz, along with General Sharif, must make the call if and when to strike.

But, before war comes intelligence, and as Pakistan's first soldier-spy chief, the DG-ISI turned COAS led a silent, semi-revolution in Aabpara. Firstly, he reduced the operational and strategic gap between Aabpara and Chaklala by tagging the best and brightest to serve as two-stars in one of the ISI's several sub-directorates, breaking away with the old-school tradition that an ISI man couldn't attain four stars (just look at now CJCSC Rashad Mahmood, the man Kayani tasked to restructure, in fact, rebuild the ISI's previously dysfunctional Counter Terrorism Wing) or that a DG-ISI couldn't have experience at Aabpara at the major-general rank (the example is the current DG, Zahirul Islam).

Episodes like that of the killing of journalist Syed Saleem Shahzad only increased the learning curve of the spooks, who today have largely learnt to monitor, not intervene. Kayani also ensured that the intel agency bit its lip when it came to cases like those of missing persons.

Those were the new fronts. But what of the old one? On the Indian front, he tried to keep up with a superior enemy. As a booming India invested in its military, with New Delhi's defence spending almost eight times that of Pakistan, procuring tri-services hardware and increasing the quantum of India's offensive capability on the Pakistan border in the shape of Cold Start – a doctrine designed to "bite, not eat" Pakistan for a "an intense, short duration, short notice" war that would punish Pakistan, yet not push it over the brink, i.e. go nuclear. With smaller, more tactical integrated battle groups (IBGs) that would deploy offensive forces layered within defensive formations on the border, potentially hitting Pakistan before the politicians and the rest of the free world got involved, the doctrine has been an open secret since the early 2000s, and created serious pressures in Rawalpindi to respond.

Kayani, as one general put it, "obliged India by creating the Pakistan Army's surprising the surprise" doctrine in Azm-e-Nau, or New Resolve, which passed through four years of conceiving, proofing, modules, dry runs, debates and field exercises personally seen through by Kayani himself. Little is being said about the new strategy, except the following: Once again, Gen Raheel Sharif has been pivotal in the last couple of years of its design evolution; Pakistan's Army and Air Force will be seeing more integrated roles in its implementation, which means that Gen Rashad Mahmood, who will be running the Joint Staff Secretariat, will not be idling around cutting ribbons for the next three years.

Published in The Express Tribune, November 30th, 2013.