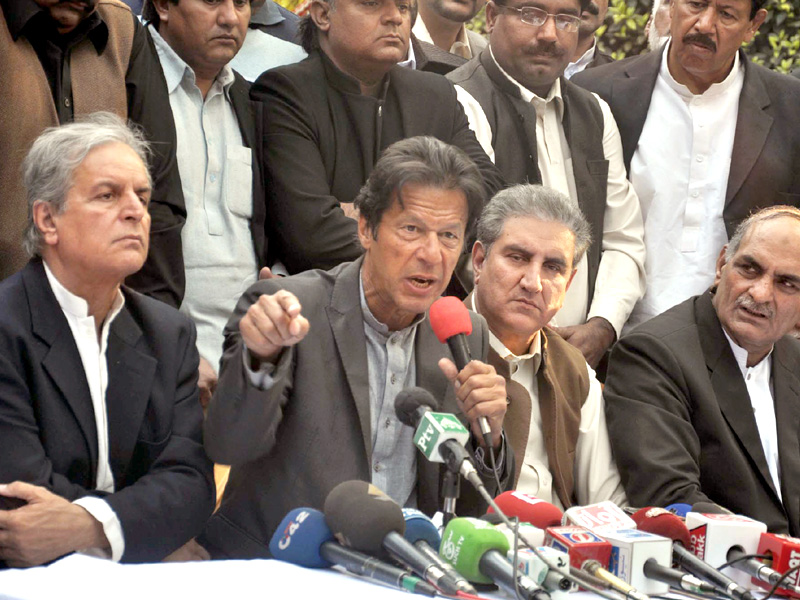 ---
ISLAMABAD/ LAHORE:



Pakistan Tehreek-e-Insaf (PTI) ratcheted up pressure on the federal authorities on Friday as its leaders sought to widen their campaign against drone strikes, in a bid to force the government to devise a more independent policy on the US-led war against terror.




In coming days the party is planning to start a countrywide protest.

Informed sources told The Express Tribune on Friday that the PTI chief Imran Khan has convened an emergency meeting of the party's core committee today (Saturday) to discuss the party's stance on drones and the blockade of Nato supplies.




"We'll decide on how to give a new momentum to the ongoing protest against drone strikes—it'll also be spread across the country," said a senior leader of the party. "The party will announce a new strategy on drones and Nato's blockade after the meeting," he added.

"The meaningful protest in all possible form against drone strikes will continue unless the United States publicly announced it will halt illegal drone operation in tribal areas," said PTI Deputy Information Secretary Adnan Randhawa.

"PTI will continue demanding an immediate end to the federal government's policy of inaction on the issue. Beyond lip service it must take concrete measures against the killing of innocent Pakistanis."

Meanwhile, the PTI chief said that US did not want peace in Pakistan. He added that friends of Pakistan did indeed help the country by promoting peace whereas the US was only killing people in the name of friendship

"I have no doubts now that the Pakistan Muslim League-Nawaz (PML-N) government came into power while inking a secret deal with the US over the drone issue," Imran claimed adding that for this purpose massive rigging was done in general elections.

He said that the PML-N government was part of a game and international agenda to plunge Pakistan into more crises. "We do not want war with the US but we also don't want to be their slave," Imran said.

Amnesty for investors

The PTI chief also lashed out at the government for introducing a 'money whitening scheme' for investors, alleging that it would promote corruption and tax evasion in the country.

Criticising the move, Imran said that PML-N was giving industrialists the opportunity to whiten their black money. He added that such schemes would only increase disparity in the country and make the rich richer and poor poorer.

"Investment is not possible without peace and whitening of black wealth will not bring peace," Imran remarked.

Published in The Express Tribune, November 30th, 2013.