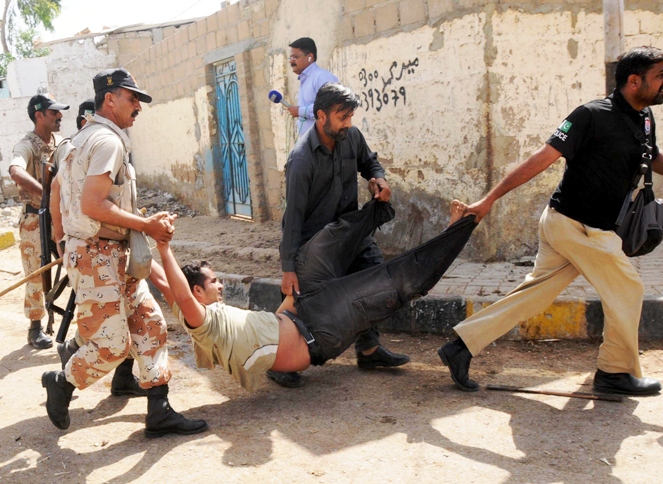 ---
ISLAMABAD:



The Pakistan Protection Ordinance (PPO) 2013 not only violates human rights conventions, it might also suppress political and civil rights movements in Pakistan, said human rights advocates.




Participants at a consultation titled, "PPO 2013: Implications for human, political and legal rights of the citizen," condemned the ordinance and urged civil society to raise its voice against the ordinance's authoritarian language. The consultation was organised by the Strengthening Participatory Organisation (SPO) on Thursday.

IA Rehman, the secretary general of the Human Rights Commission of Pakistan (HRCP), voted down the ordinance during his keynote speech. "The ordinance could be used to suppress movements for human rights in the country," he said.

The ordinance, which allows law enforcement officials to use force against, and arrest without warrant, any person who they consider is likely to commit a scheduled offence, was approved by President Mamnoon Hussain on October 20. It was presented in the National Assembly on November 7.

The ordinance will only come in to effect if it is approved by the legislature.

SPO representatives presented a comparative analysis of the PPO 2013 with the Constitution, the Universal Declaration of Human Rights and the International Covenant on Civil and Political Rights.

The analysis showed the PPO 2013 violated Article 9 and 10 (1) of the Constitution by allowing law enforcement officials to fire even on apprehension of scheduled offences and arrest without warrant on reasonable suspicion. The preventive detention clause of the PPO 2013, which states that the interior secretary can authorise detention for not more than 90 days, is also in violation of the human rights declaration and the rights covenant, both of which have been ratified by Pakistan.

The ordinance gives armed forces and civil armed forces the authority to exercise "all the powers of a police officer," which Rehman said was a bizarre move considering the armed forces should never interfere in civilian matters.

It is true that other countries such as the US and the UK had come up with anti-terrorist laws but that does not mean that Pakistan should follow suit without contextualising the issue, Rehman said. "Pakistan's law enforcement agencies are often guilty of overstepping the law so there was no guarantee that they would not misuse the extraordinary authority granted to them by the PPO." He said laws should not be exploited, they should be clearly written and a narrow definition of crime.

Rehman also said the ordinance tries to give the impression that it is against an "alien enemy" but  anyone not able to prove their identity on the spot could be persecuted under the ordinance.

Published in The Express Tribune, November 29th, 2013.