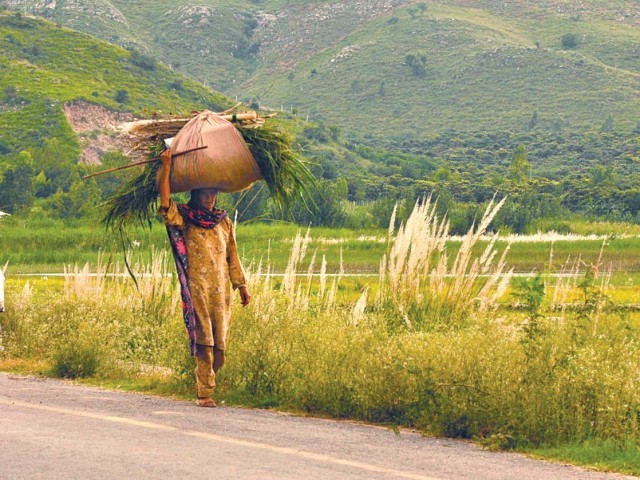 ---
KARACHI: The impact of climate change is mostly discussed in terms of global warming, agriculture and health but on Thursday, a seminar organised by Shirkat Gah looked into how the women in Pakistan have been affected by the climatic change in Sindh's coastal belt.

"The lack of fresh water has severely affected the people, especially women," said Sikandar Brohi of the Participatory Initiatives. "Give them fresh water and they'll start walking on the path to development eventually."

Shirkat Gah, women's  resource centre, launched its report on 'Climate Change and Women' at a seminar titled 'Gender Dimensions of Climate Change in Sindh' which was attended by environmentalists, politicians and members of the local communities.


The projections of temperature in Kharo Chann's coastal area show that there would be a sharp rise in temperature at the rate of 0.5°C per decade. SOURCE: SHIRKAT GAH

Sharing findings from Kharo Chhan, Thatta, Shirkat Gah's Tahir Hasnain said that women were going through behavioural changes, increasing health issues and mounting workload — all because of climate change. "Women now have to walk to farther distances for fetching water and collecting fuel wood, increasing their burden and decreasing socialisation," he said.

"The changes in weather patterns and intensity of heat and cold have changed working patterns of people, especially female farmers," said the chairperson of the National Commission on the Status of Women, Khawar Mumtaz. "Substantive cropping was replaced with cash crops. Second shift was from natural fertilisers to chemicals, pesticides and hybrid seeds.  Forests were replaced with banana cultivation and dam's resulted in decrease of fish."

Sharing her findings on climate change in Shaheed Benazirabad district from a study conducted in 2011, she said that women were primary caregivers and changes in their surroundings was affecting their health and living patterns. "Men often have to move for work which increases financial pressures on women." Her suggestions were that women's skills need to be enhanced to cope with climate changes. "There is a need for focusing on adaptation and building people's capacity to cope with surrounding changes."

Her findings highlighted that sustainable development without being compatible with the climate was not possible and that it was important to ensure health facilities for women and their contribution in policy making. "Women should be in control of their resources and be part of a joint management for natural resource management."

The report discloses startling realities of Kharo Chhan, stating that with a population of 29,000 residents, there were no government offices in the area except for a few schools and a Basic Health Unit. Only one village has electricity, there is no police station and the only girls' primary school is facing shortage of female teachers. While 125 girls are enrolled in primary schools, only 20 of them actually attend. The report also tells the same situation of middle school where 18 students are enrolled but only three attend.

The report also covers the impact of rising sea level, saying that the sea has already inundated thousands of acres of coastal land while 117,823 acres of land was affected by salt-water intrusion. It suggests that women should be involved in policy planning and its implementation while the government should focus on the local infrastructure and provide them with health and educational facilities. Potable water remains one of the major issues, stressed Shirkat Gah's report, suggesting that the women should be taught how to purify or filter water.

Published in The Express Tribune, November 29th, 2013.
COMMENTS (3)
Comments are moderated and generally will be posted if they are on-topic and not abusive.
For more information, please see our Comments FAQ