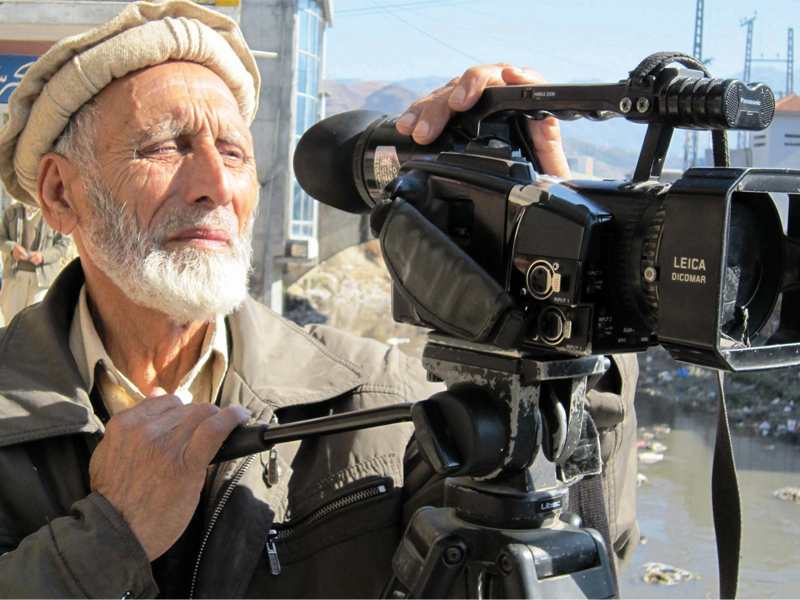 ---
MINGORA:



Living a life of seclusion, Faqir Gul, the assistant cameraman of the first ever Pashto film, Yousuf Khan Sherbano, recalls the golden times of the Pakistani film industry.




Yousuf Khan Sherbano (YSK) was released in 1969 in Karachi and a year later in Peshawar. Considered a 'super-hit' of its time, it starred Badar Munir and Yasmeen Khan, was directed by Aziz Tabassum and produced by Nazir Hussain.

Faqir Gul started his career as an assistant cameraman for a famous Urdu film, Heera Pathar in 1964, which starred Waheed Murad and Zeba. Gul not only did camera work in Pakistani films of the time, but also acted in a few minor roles.


(Left) A young Faqir Gul on the set of Yousuf Khan Sherbano in 1969. (Above) Gul with the cast of Armaan, including Zeba and Waheed Murad. PHOTO COURTESY: FAQIR GUL

The idea for Yousuf Khan Sherbano was discussed between the director Aziz Tabassum and Faqir Gul, who then presented it to producer Nazir Hussain.

A Pukhtun Romeo and Juliet

Written by Ali Haider Joshi, Yousuf Khan Sherbano is a classic tale of unfulfilled love. It is a story of two lovers torn apart by revenge, separated by society and finally brought together in death. The tale has also been called the Pukhtun Romeo and Juliet.

"When we discussed it with Nazir, he immediately approved of the idea and we got to work. Ali Haider Joshi was contacted to adapt his story to a script. And so, before we knew it, the project was underway," Gul told The Express Tribune.

Back then nearly all the cast and crew involved in the movie lived in Karachi. "Badar Munir, Nemat Sarhadi, Nazir Hussain, myself and others who would go on to become stars lived together in Karachi and were good friends. When the shooting of Yousuf Khan Sherbano started, I offered my services as an assistant cameraman," he added.




"Each and every part of the film was designed by consultation; I was even actively involved in its costing. Being a very close friend of Nazir's, I obviously worked for free," said Gul.

Nostalgically recalling the production, Gul spoke of how enthusiastic the team was about the film, and how they would be up late every night to discuss various scenes.

"When the film released, the public showed great enthusiasm and it performed better than we expected. Not only Pashto-speaking people, but people from all over Pakistan flocked to the cinemas," said Gul.

The inaugural Pashto film witnessed tremendous success and completed more than 50 weeks in one cinema of Peshawar, a feat since unmatched.

Encouraged by their debut success, the same team decided to follow up with another film. This time they based it on what is probably the most famous Pukhtun folk tale: Adam Khan aw Durkhanai. The filming for the project was completed in 1970 and it was released later in 1971. Although Adam Khan aw Durkhanai also proved to be a commercial success, it could not match the acclaim garnered by Yousuf Khan Sherbano.




After completing both movies, Gul bade farewell to the film industry in the same year and joined the Pakistan Television Corporation (PTV) as a cameraman. "The first project I worked on with PTV was Lal Qilla se Lalo Khait, on which I worked as an assistant cameraman and Sohail Hashmi was the cameraman," shared Gul.

He expressed his sorrow over the present unrest in Pakistan and said he would prefer to go back in time when there were no divides in the nation.

"It really was a good time. All people, irrespective of race or sect, coexisted with one other. It was a brotherhood. There was no Pukhtun or Punjabi, Mohajir or Baloch; we were all Pakistanis. But now we are splitting further apart day by day."

Faqir Gul presently lives in Swat with his family. After an accident, Gul lives with a partial physical disability. Despite old age and illness, he continues working to earn a livelihood for his family. Gul still owns a camera, and makes a meagre salary shooting infrequent local news packages for PTV.

The man responsible for bringing fame to his culture now lives unremembered by any government or ministry. Once part of the glamorous silver screen, Gul now lives a largely forgotten life.

Published in The Express Tribune, November 27th, 2013.
COMMENTS (3)
Comments are moderated and generally will be posted if they are on-topic and not abusive.
For more information, please see our Comments FAQ