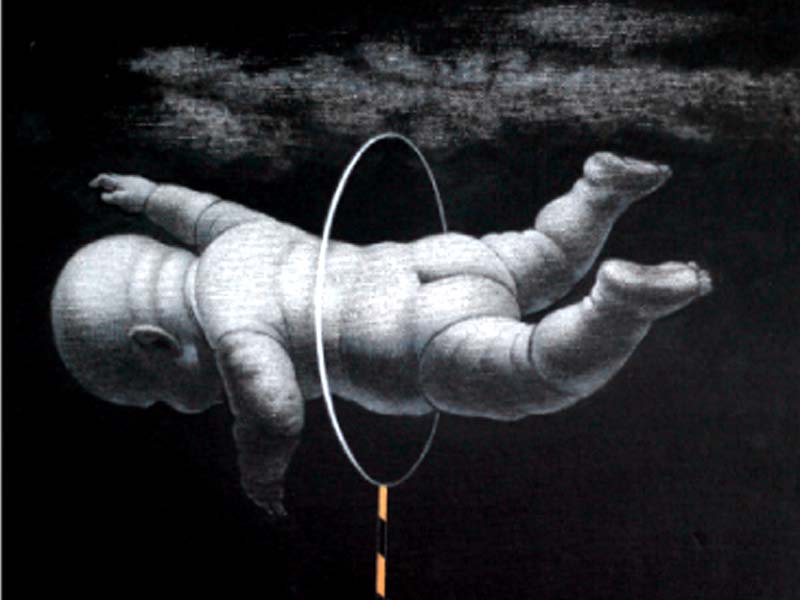 ---
ISLAMABAD: Spirituality is at the heart of a painting exhibition by contemporary artist RM Naeem that opened at Tanzara Gallery on Thursday. As the title "Aura" suggests, one finds otherworldly symbols and images that are meant to lead the soul into a spiritual dimension, transcending physical boundaries.

"I've basically taken common elements from all religions and explored how they can make society better. When you look at the chaos around you, you need some time to yourself and it is only when you look within that you feel connected to a path that leads to another world," said the artist, while speaking with The Express Tribune. "All religions are teaching the same thing, the problem lies with the interpretations," he added.

According to Noshi Qadir, the gallery's owner and curator, Naeem pushes artistic limits through varied aesthetic and visual explorations. "His subjects are spiritual, social and political themes. His paintings explore Sufi philosophy and refer to man's spiritual journey in this world and beyond," she said.




The artist's work manifests itself through a soul search, where architectural elements, symbols and gestures are woven into the multifaceted paintings. He has merged mundane objects like road signs, cubic boxes with landscape and masked human beings.

Naeem said even the U-turns hold a spiritual message for him. "They show that you can turn back from your current path if you choose to do so," he said.

People wearing skull caps and veils symbolise universal harmony, conveying the message that all religions impart the message of peace that binds all mankind. It celebrates a metaphysical ideology and a universal need of human beings to perform mystic rituals that connect one individual to another.

Brazilian Ambassador Alfredo Leoni inaugurated the exhibition and said, "Naeem's successful career shows not only his exceptional talent but also the power and diligence of Pakistani art world."

Cristina Afridi, a guest, said, "It's a very unique exhibition. The message is quite strong and looking at the expressions and the situation, you can feel like a part of it."

Alinah Malik, an art student, said, "Most of the pictures are very photo realistic. It looks like a photograph. Even in his earlier work, he uses Tapayi, the miniature technique which involves using lines to finish a piece."

Naeem's work has exhibited in 14 solo art shows nationally and internationally. Recipient of the National Award of Excellence in 2003, he holds a distinction in Bachelor's of Fine Arts from the National College of the Arts, Lahore in 1993. He has also held the position of assistant professor at his alma mater.

Having participated in 13 international art camps and residencies over the course of his career, he established the Studio RM International Residency Programme in Lahore in 2008.

The exhibition will continue till December 5 from 11:30am to 7pm daily except Sundays.

Published in The Express Tribune, November 23rd, 2013.