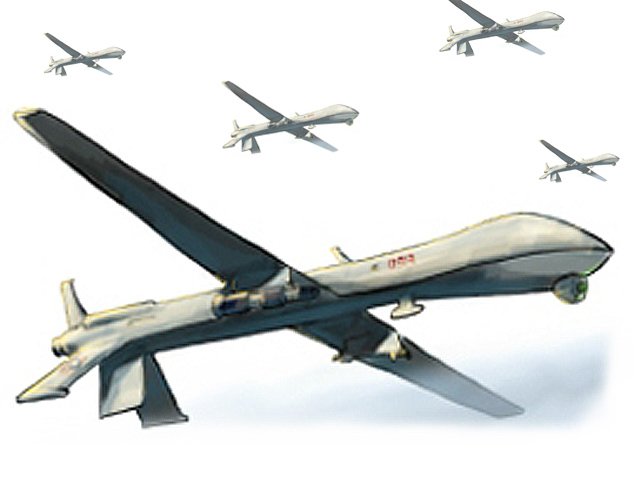 ---
In a rare incident, a drone fired missiles in Khyber-Pakhtunkhwa's (K-P) Hangu area, killing eight people. Previously, the strikes were limited to the country's tribal areas. 

As US expanded its drone campaign in Pakistan, people reacted against it on Twitter:


When will Pak govt realise US has declared war on Pak with drone attacks? Now expanding this war to KP.R govt & mly sleeping or complicit?

— Shireen Mazari (@ShireenMazari1) November 21, 2013
Suspected US #drone strike on #Pakistan seminary where Siraj Zadran Haqqani was spotted 2 days ago http://t.co/Jtc4L3rdMZ

— Husain Haqqani (@husainhaqqani) November 21, 2013
If we host pepole like OBL,Al Zawehri,S.Haqqani options r B-52 or Drone n drones much better,another chilling reminder to chnge our policy

— Ch Fawad Hussain (@fawadchaudhry) November 21, 2013
Hangu Drone Strike in KP is a further escalation into Pak territory. Week kneed leadership will enslave us.We beggars cant stand up Shameful

— Dr. Arif Alvi (@ArifAlvi) November 21, 2013

https://twitter.com/nadeemmalik/status/403391977267294208

This morning's drone strike in Hangu is not exactly a love letter from the US to the Nawaz Sharif government.

— Bina Shah (@BinaShah) November 21, 2013

https://twitter.com/MinallahAthar/status/403368124440793088
COMMENTS (20)
Comments are moderated and generally will be posted if they are on-topic and not abusive.
For more information, please see our Comments FAQ