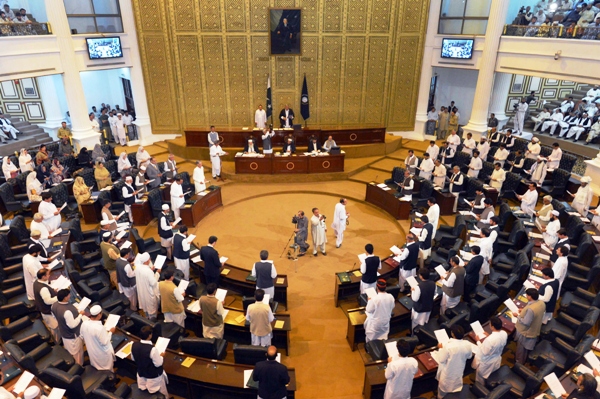 ---
It has been said of democracy that it is never a finished process and is constantly evolving; it has also been said that democracy is not 'one size fits all' and that it comes in a variety of 'fits'. Thus it is in Khyber-Pakhtunkhwa (K-P) where the ruling party is the Pakistan-Tehreek-i-Insaf (PTI) led by Imran Kan. The PTI from its inception has taken a principled position against corruption. It would seem that principle has now been aligned with political reality and three K-P ministers, two from the Qaumi Watan Party (QWP) and one from the PTI itself have been suspended, and Imran Khan has strongly recommended that the PTI dissolve its coalition with the QWP. It was claimed that the QWP had ignored multiple warnings regarding corruption in its ranks. By contrast, Imran Khan praised ministers of the Jamaat-e-Islami as being exemplary in their dedication to a climate of zero tolerance for corruption.

The QWP has protested and says it needs to see the proof of corruption and would take 'stern action' if it was proven to be the case. The question is whether the split from the QWP is going to affect the balance of power in K-P, and what might happen if the QWP take their 10 seats over to the opposition benches in the provincial assembly. On paper, at least, the PTI seems secure even if the QWP are disaffiliated. The opposition holds 45 seats spread across five parties and one independent. The PTI leads a coalition with 79 seats in total. The loss of 10 to the opposition would weaken the PTI numerically but not come close to threatening their majority coalition. There may be difficulty ahead if PTI partner parties become disenchanted and cross the floor, but for the moment, the K-P government must be regarded as stable and the ruling PML-N at the centre seems to have no inclination to rock the boat any further than it has already been rocked. Any move to clean up corruption has to be welcomed, and nobody ever thought that democracy was either tidy or pretty.

Published in The Express Tribune, November 18th, 2013.

Like Opinion & Editorial on Facebook, follow @ETOpEd on Twitter to receive all updates on all our daily pieces.
COMMENTS
Comments are moderated and generally will be posted if they are on-topic and not abusive.
For more information, please see our Comments FAQ