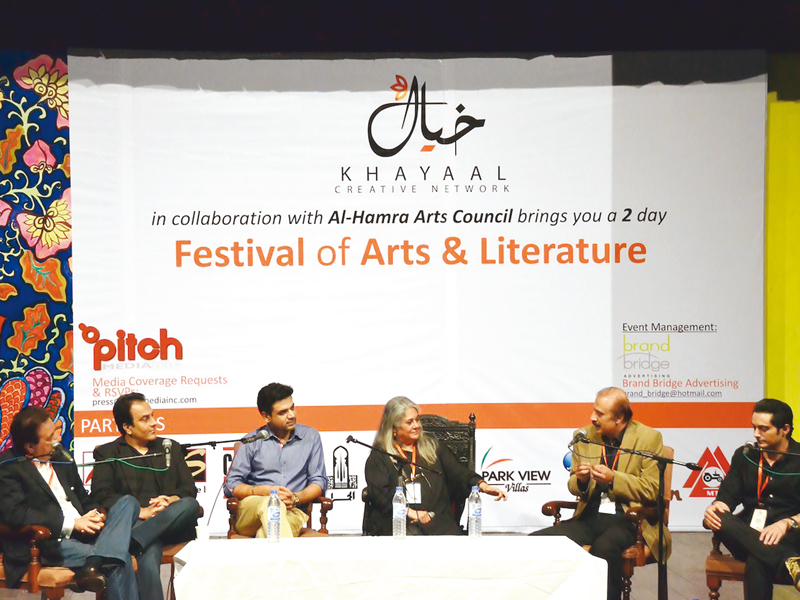 ---
On a crisp autumn morning, one of the four organisers of Khayaal Festival of Art and Literature, Ayesha Husain, stood in front of a small audience at the Alhamra Arts Council Hall 1 and shared her thoughts on why Lahore needs an alternative social narrative which is positive and all-inclusive.

She explained why she and her colleagues, Zainab Qureshi, Amna Omar and Nuria Rafique-Iqbal came together to form Khayaal Creative Network, stressing the need for preserving Lahore's and Pakistan's unique socio-cultural identity. Audience members, while few in numbers, agreed. Meekal Hasan and his troupe of musicians vowed the audience with a soulful rendition of the national anthem and so began an extravaganza that was a much needed balm to the usually intellectually parched social calendar of the city.




Similar to the Lahore Literary Festival held earlier this year, Khayaal Festival featured back-to-back discussions and sessions over a period of two days fused with musical and dramatic performances. The major difference was that the festival had veered away from the confines of bookish discussions and paired the worlds of literature and art together to concoct a delightfully stimulating mix of the serious and the whimsical. On one hand we had renowned academics and publishing experts talking about the perils of publishing in Pakistan and on the other there were writers talking about the limitations of writing on art. From a conversation about the aching beauty and sheer travesty of wandering through Pakistan to a discussion on how to take Pakistani theatre from the absurd to the absolute, this was only the first half of the first day of the festival.




Art and literature make us realise the fluidity of identity

Lahore came out to see and hear the literary darling Mohsin Hamid. The author's elusive wit and understated charm was matched by the effervescently upbeat Mira Sethi. Proving to be an engaging interviewer, she narrated how a local bookshop owner had languidly informed her "Hamid ki kitaab top par hai aaj kal" (Hamid's book is a top-seller these days). The conversation was based on the collective bibliography of the author, with a few choice questions inevitably thrown in the mix about Mira Nair's cinematic adaptation of Hamid's book, The Reluctant Fundamentalist. About a question referring to his female characters, Mohsin Hamid sagely mentioned how "women's sexuality unsettles everyone; it's the most frightening thing in any civilisation". He added that his female characters exist independent of their male counterparts and perhaps are not conventional. He drew a laugh and cheers from the crowd when he mentioned what he tells people who ask him why he doesn't write in Urdu. "I'm a fish," he said, "why don't you fly? Someone asks the fish. Because I'm a fish! Says the fish."




We are nothing without our filth and fury

Salman Shahid took to a darkened stage, armed with printouts of Manto's infamous story Thanda Gosht, narrating it with halting grace. A sitar nawaz sat beside him, punctuating the ferocious melancholy of the narrative with the strings. However, it was young auteur Sarmad Sultan Khoosat who stole the session when he read one of Manto's essays and later showed a short film which served as an introduction to his upcoming masterpiece Main Manto. Shot beautifully, the film promises to be a visceral in-depth look at the life of the man behind the stories; the madness, the sound and the fury. Sarmad said the film will be released in Pakistan in the first half of next year after it has done a tour of the international film festivals.

In sharp focus

Perhaps the biggest crowd-puller of the day happened in the form of a session that brought together the crews of two of the biggest cinematic hits Pakistan has had in the past few months. Bilal and Kamran Lashari and Amir Munawwar represented Waar and Vasay Chaudhry and Javed Sheikh joined them to represent Mein Hoon Shahid Afridi. Much to the moderator's delight, and to the surprise of the audience, the studly Shamoon Abbasi who played the villain in Waar also showed up in the crowd and was invited on stage mid-discussion. The conversation touched upon the revival of cinema and the evolution of the art of cinematic storytelling in Pakistan.




Some of the audience members debated whether Waar was too violent, abrasive, and full of foul language. They also pointed out that perhaps the film pandered a very stereotypical image of Pakistan at war with itself when it comes to terrorism, and that certain foreign elements are to blame for every mishap. Bilal Lashari belied his years when he very soberly countered each statement by saying that his was a big budget action film not unlike a Hollywood production, which are far more violent. As for the controversy surrounding the funding of the film coming from ISI, he said, "Well, the ISPR is enjoying all the free credit right now."




Vasay Chaudhry was a riot when he admitted that as the writer of Mein Hoon Shahid Afridi, he couldn't divert the audience's attention from previous sporting films from across the border such as Lagaan and Chak De India, so he focused only on having a laugh through the script. "There are perhaps four per cent people in this country who have everything," Vasay added, "and then there is the 96% who have nothing but the power of prayers carrying them through life. Mein Hoon was an ode to that."

Remains of the next day

The second day of the festival saw more numbers in attendance along with many of the panelists from day one. Nabiha Meher Shaikh, an educationist and women's rights activist working with the NGO Simorgh introduced their recent publications to young attendees and their parents. The books included a hefty tome about Raja Rasalu and many translated feminist texts, textbooks for children and mainly collections of works of women's writers of Pakistan. Khayaal Festival also had a small craft fair being run by Daachi Foundation outside the main halls. The day featured simultaneous talks in not two but all three halls of Alhamra, making it even harder to choose between sessions.




Can television be credited as being an intelligent medium at all?

Sarmad Sehbai, Asghar Nadeem Syed and Haseena Moin, in a discussion with Sarmad Sultan Khoosat, brought out the proverbial claws when discussing the current state of Pakistani drama. In an engaging session, the three veteran television writers shared three different theories of what is wrong, or right, with Pakistani drama today. On question of Turkish dramas killing the business of good Pakistani dramas, Sarmad Sehbai vociferously countered the argument that competition was necessarily a boon for Pakistani drama makers, a view held steadfastly by Asghar Nadeem Syed. As for drama writers having a social duty and moral obligation to write intelligent material, he also added that no revolutions should be expected from the writers when they are paid peanuts and are driven to write in things that drive marketing revenue for the seth media. Haseena Moin joined in by saying that the ratings and marketing aspect of dramas has killed the age old demand of telling a good story.




"I wrote strong female characters that were bold and courageous and could have a good laugh along the way. Today's plays either show the women to be weak, submissive and oppressed or the conniving home-wrecker," she said. "This simplification of complex issues needs to stop."

Asghar Nadeem Syed interjected that he had written a drama about the four girls who were buried alive in Balochistan and it got good ratings and feedback, so the door was not entirely closed on intelligent writing. "Unfortunately the media has assumed the role of sole caretaker of public debate and discourse," he added. "Our role models, legends and new talent have all been sidelined by revenue driven political tamasha."

Bubble of water

The session featuring first time film-makers Meenu Gaur, Mazhar Zaidi and Farjad Nabi added a refreshing perspective to the ongoing conversation about the revival of Pakistani cinema.




"[Around] 95% of our film's crew was first time film-makers. Our art direction came from students of National College of Arts (NCA) and Beaconhouse National University (BNU), and all our leading men with the obvious exception of Naseeruddin Shah were first time performers," said Meenu Gaur. When asked about whether it was easy to follow through with her ideas for the film, she said that Pakistan's film industry is free from the hegemonic model Bollywood has now assumed. Aspiring Pakistani film-makers have a clean slate and a level field to try out their stories.

Farjad Nabi was adamant that the story they wanted to tell in the film grew as the actors improvised. Fresh from being under Naseeruddin Shah's tutelage, they were also ready to explore new ideas. "The stories truly are all out on the streets, it's just that no one's telling them."

Mazhar Zaidi recollected the remaking of the classic Saahir Ali Bagga song Paani Da Bulbula by showing a documentary clip of the man himself, talking about the history of his version and the spirited remake by Abrarul Haq. The fact that their film has been sent as an official Foreign Language Film nominee to the upcoming Oscars was of much delight to the film-makers, although they admitted they did not have the budget or the contacts in LA to run a campaign to promote their film.




Farjab Nabi announced that their next film project will be crowd-funded so the people should get ready to put in their money if they want another exciting film.

The songbird among us

Perhaps the most moving session was the one that featured, in all her glory, the grand dame of Pakistani classical music, Farida Khanum. Moderated by Ali Sethi, whose enthusiasm for classical music often bubbled over, the session turned into a mehfil of sorts when surprise guest Ghulam Ali joined the two on the stage. The lofty conversation veered from the  800-year-old tradition of classical music, the evolution of Raag Aiman, anecdotes about pronunciation of words in ghazals, memories of Radio Pakistan and how Farida Khanum's singing has sustained three generations now.




The session took another poignant turn when Farida Khanum paid tribute to the legendary folk singer Reshma, who had died earlier that day. "She sang from her heart and her whole being. She couldn't reel her voice into what was considered proper, and that was her talent. It was perhaps too visceral for some people, but she didn't care," Farida Khanum said. Ghulam Ali recalled Reshma's simplicity despite her celebrity status, stating how he had once helped her get her payment from a concert promoter who had tricked her out of it.




Me, all of us, and everyone

The festival ended with an inspired performance by indie musicians Poor Rich Boy. A complete flip-over from the last session, first time attendees of the performance doubted if the band could add anything of substance after the graceful strains of Farida Khanum's session. However, to obliterate everyone's negative expectations, the band delivered a rousing performance of some of their most interesting hits. Lead singer Umer Khan lightly added that it was his "turn to tell stories". And indeed he did, from a philosophical parable about man who goes searching for a tree with a treasure buried underneath it and the power of dreams, the session was a melodious reminder of the significant talent there is among our youth.




Entry to the festival was free but it was organised carefully with a lot of thought and heart, and one hopes that the next Khayaal Festival will be promoted properly so that more people can attend. The lack of crowds at this event, however, did not take away from the quality of the experience, and reminded everyone why Lahore is still the cultural heart of Pakistan.

Published in The Express Tribune, Sunday Magazine, November 17th, 2013.
COMMENTS
Comments are moderated and generally will be posted if they are on-topic and not abusive.
For more information, please see our Comments FAQ