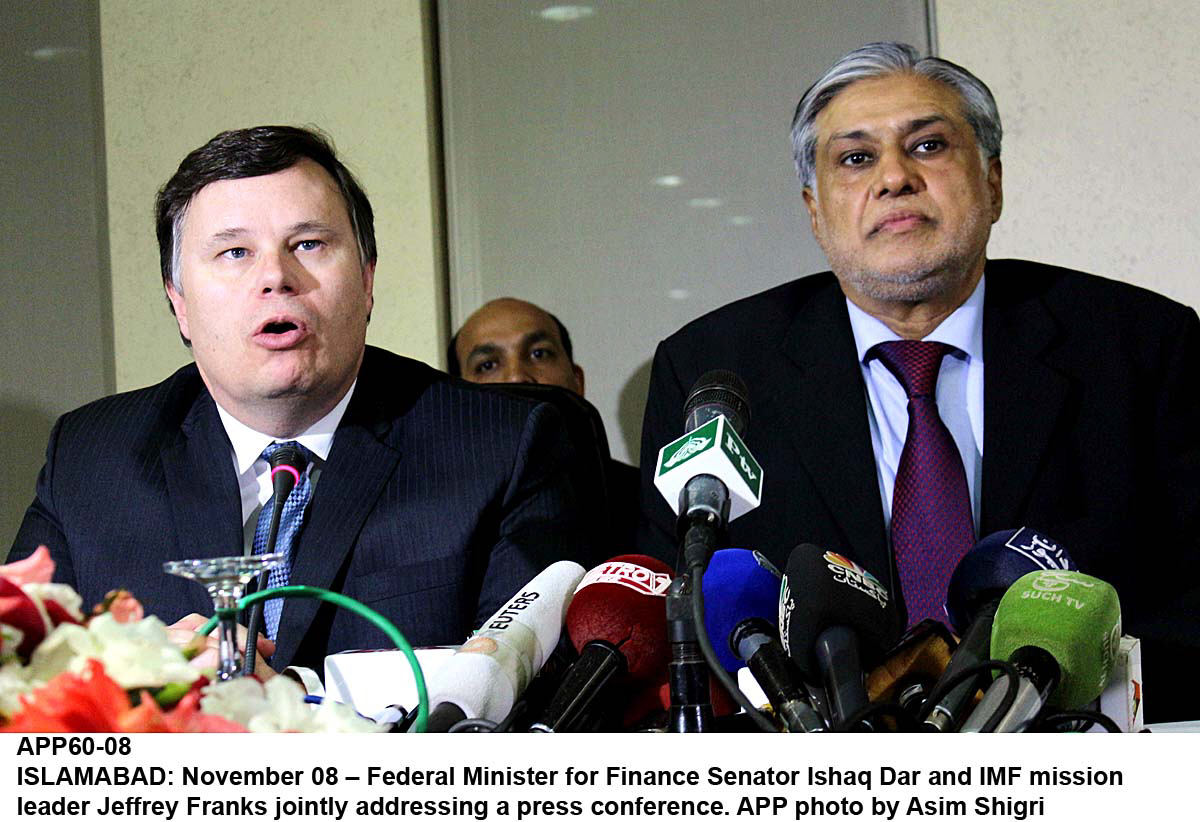 ---
ISLAMABAD: The International Monetary Fund said Friday that Pakistan was "broadly on track" with reforms tied to a $6.7 billion loan package, but warned it must act to rebuild foreign exchange reserves.

The Washington-based lender agreed the three-year programme with Islamabad in September and made an initial payment of $540 million.

The package is aimed at reducing Pakistan's fiscal deficit - which neared nine per cent of gross domestic product last year - and reforming the energy sector to help resolve severe power cuts that have sapped growth potential.

Future payments are dependent on the completion of tough economic reforms measured at quarterly reviews.

An IMF team visited Pakistan from October 28 to November 8 for talks with top finance ministry and State Bank of Pakistan (SBP) officials.

Mission chief Jeffrey Franks said the programme was "broadly on track", with all major benchmarks hit apart from foreign exchange reserves, which he said was missed in part due to SBP interventions to prop up the falling rupee.

"Challenges on the balance of payments will persist for some time to come, so it is crucial that firm action be taken to begin to rebuild foreign exchange reserves," Franks said in a statement.

The nuclear-armed state, battling a homegrown insurgency, is blighted by a dysfunctional energy sector, with severe power shortages have limited GDP growth.

But there was brighter news for Pakistan on GDP as the IMF revised their growth forecast upwards slightly from 2.5 per cent to 2.75 per cent. Earlier in the week, Pakistan also got a boost when a motion to block its duty free access to European markets was shot down.

Franks and his team will submit a report on Pakistan's progress to the IMF board for review in late December, and if approved the lender will release the next tranche of $550 million.

He said that despite the challenges facing Pakistan, predictions of imminent financial collapse - the "sky is falling mentality", as he put it - were perhaps excessive.

"When growth is going to be positive, inflation is relatively modest compared to many other countries that have been in crisis over the years and a budget deficit that is coming down decisively, we shouldn't exaggerate the problem," he told reporters.