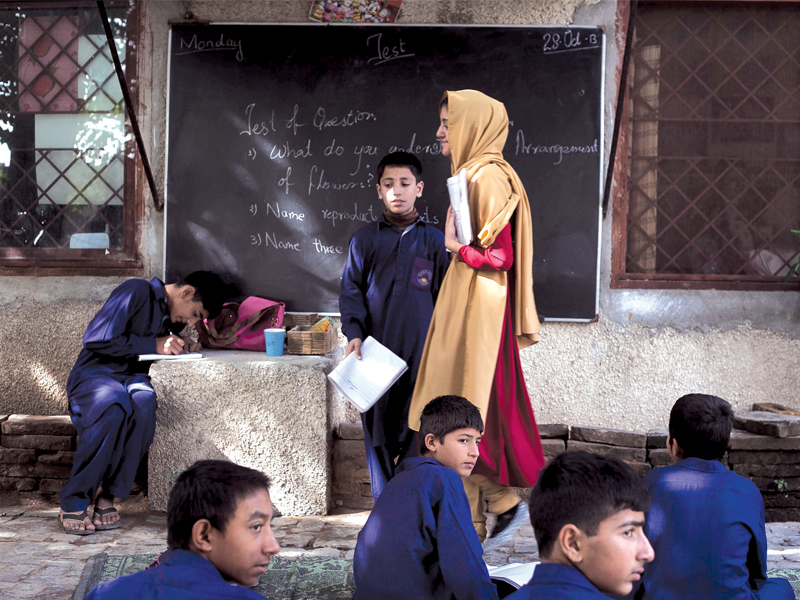 ---
ISLAMABAD: Hands, feet, eyes, nose, ears. Ali Ahmed's buoyant tone belies his nervous, small-framed authority. Hastily listing the God's blessings as part of the day's lesson, the zealous nine-year-old student's voice trails off to catch his breath before he can furnish what he has memorised.

Tucked between a neat residential area in Westridge, Rawalpindi, the Rah-e-Amal school provides free education to vulnerable children whose circumstances push them into occupation at a time most crucial to their development and growth.


The school also offers higher education to deserving students from various open colleges and universities upon graduation from 8th grade. PHOTOS: MYRA IQBAL/EXPRESS

The school, which accommodates around 150 students from grades one through eight, is the brainchild of Zehra Fasahat, whose doting trajectory led her to approach rag-picking children who shuffled outside her house with an outlandish proposition --- would they like to attend school?

"Why? Do you want our votes?" Zehra recalls their response with a poignant laugh, "Street children are feisty and instinctively disbelieving."




In lieu of a traditional approach to education, Rah-e-Amal's curriculum focuses on strengthening the character of its pupils through inculcation of tolerance, humanity, hygiene and kindness, in addition to the regular academic regimen. The school has a staff of seven teachers and an ambit of volunteers who oversee the classes and help with the school's management.

"We have to accept the domestic realities of our students," said Atiya Rashid, a teacher at the institute. "Most of these children are not likely to become doctors or engineers, but they can be nurtured into good human beings."

Founded in 1998 under the Rah-e-Amal Trust, the school is run through hushed, though unyielding, support from friends and family. Its enrolment swells through the ricocheting acclaim of its well-mannered and eager pupils who stand out within their communities.




While the premises have shifted from Zehra's garden to a donated corner-house in a winding lane where no sign distinguishes the school, the grades are sectioned off in a sunny courtyard. Advanced grades have desks but the younger students sit cross-legged under the shade of a tree, diligently writing in their notebooks, while a scarlet figure hovers above them.

"Education is crucial to character-development," expresses Mahrukh, the fourth-grade teacher, a chalkboard behind her indicating a science lesson. "We learn to become better individuals, to respect ourselves and those around us," adds the 21-year-old teacher who completed her Bachelor's degree earlier this year.

Shoaib Latif, a student, wants to be a businessman when he grows up. Though after he is dismissed from school each afternoon, he trudges to a travel agency in a commercial market nearby where he shifts between a hotel and the office to bring tea and food for employees. Earning Rs2,000 a month for his labour, the beady-eyed teenager realises that an education is his ticket to a higher paying job.

"I have to go to my computer class now," he says, the slight fuzz above his upper lip curving into a coy smile and he runs off before the teacher admonishes him for being late.

Published in The Express Tribune, November 4th,2013.