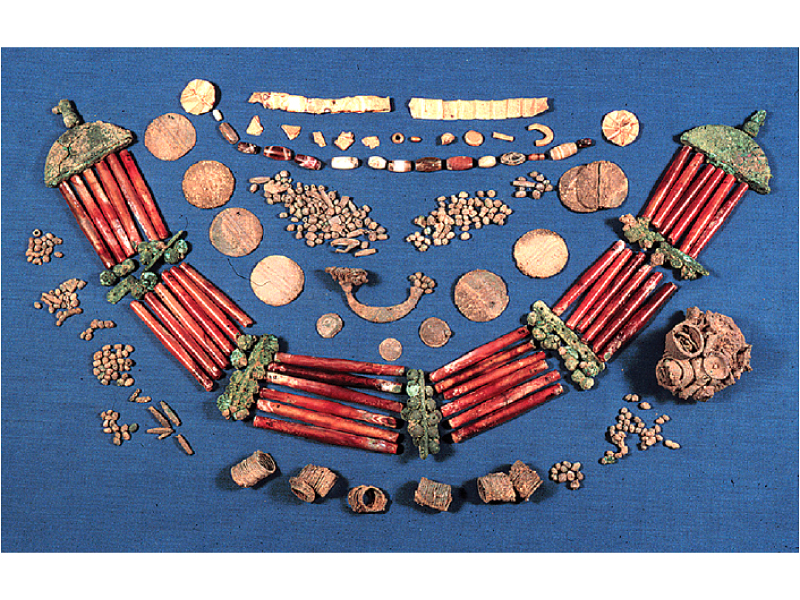 ---
KARACHI:



When archaeology specialist Dr Asma Ibrahim went to the University of Karachi to do research on its collection of prehistoric material, she was not allowed in. There was a treasure trove, but she was denied access.




"The head of the Geography department was rude," she said as a preface to her presentation on the city's pre-historicity at the first international conference on Karachi Saturday. "You can't work on the collections of your own city because some people are sitting on it."




The audience laughed at this 'encroachment', for Dr Ibrahim had hit the nail on the head. But she was pointing to a serious problem: access to our own history. Indeed, for many in the audience, a discussion or look at evidence of a prehistoric Karachi, reaching back to two millennia, is unusual. This is surprising even though, "We have an uninterrupted sequence of human occupation in the region of Karachi from the Stone Age," as Dr Ibrahim pointed out. That is 2.5 million years ago.




We usually just start our concept of history with the arrival of the Muslims but much more was happening before that. You had the Iron Age, Achaemenians, Mauryans, Buddhists, Greeks, Scythians, Parthians, Kushans, Sassnians, Indo-Sassanians, Hindu Shahis - and then came the Muslims.

Karachi has "successfully evaded" mention from these times because it was on the fringe of Empire, it was a no-man's land, it didn't promise any revenues, travel was not safe and transport costs to it were high, said Dr Kaleemullah Lashari. "Great empires, great kingdoms, [were] active and living in those areas and they were at that time constantly on the move," he said. "Thus the maps were not constant."




Lashari also dwelt on this collective 'amnesia' or forgetfulness of Karachi's Stone Age history. "Karachi has been dumped into the backyard of history," he said in his presentation. We don't think of those times (Stone Age) despite the fact that people identify Krokala with Karachi and know that Alexander the Great was here.

There are Roman accounts of Alexander's trade in the deltaic zone, said Lashari. The Greeks came by the sea and from land, via Makran. People who were Greek by origin were stationed at Bactria (the Indo-Greek empire). They spread to the limit, which was Karachi in the south.


A map of the 'Tatta Subdivision of Sind' dated 1939 showing the Palaeolithic or Stone Age sites. SOURCE: DR ASMA IBRAHIM, DR KALEEMULLAH LASHARI

"There are no texts, but there is proof," he said. Take the Scythian burials in the region, for example. These Iron Age, Iranic equestrian tribes from the 7th century BC always buried their dead with material support because they thought they would emerge in another world. The rich would slaughter horses and bury them with the body. The poor could only afford terracotta horses.

This kind of evidence is scattered all over the region. Take the stone-age cup markings of Malir and Gadap, for example. Dr Zulfiqar Ali Kalhoro showed images of this type of rock art which has been found in Sindh, especially in the Kirthar range and at Gorakh. They are literally cup-shaped engravings into the rock.

The rock art shows dancing scenes, hunting scenes and more importantly engravings of Buddhist Stupas, the Zoroastrian fire altars. They are found in rock shelters along the ancient routes and in megaliths which were large stones used to construct monuments.

Scholars have interpreted them as being used in order to prepare spices, for rituals, to pound pigments, give up offerings including human blood. And the rock dust that was discarded after the cup was scooped out was used by certain communities. For example, scholars know that in Africa pregnant women ate the rock dust. In places like Maher valley in Sindh, they were used as board games as well, even maps. Today if you want to find them go to Kathore, Gadap.

If you don't fancy going to Gadap, try Landhi where gravel near an old cliff in the south has yielded Paleolithic or old Stone Age evidence. Deh Konkar near Goth Jalab, according to Dr Asma Ibrahim, also gave up five specimens of flint tools.

In 2010, Prof Paolo Biagi discovered prehistoric mines in Jhimpir, lower Sindh. The Rohri hills, Ongar, Murli Hills all yielded similar material. In fact, Murli Hill is the only carbon-dated site, as undertaken by Biagi. If you want to discover this history anew, all you need to do is go to the department of Geography at the University of Karachi which has the Murli Hill Mesolithic collection. Sadly, though, 17 square miles of them have been taken over by urbanization. Ibrahim also pointed out that flint artefacts from the banks of the Lyari River, were discovered in 1947, but this area is overtaken by the population and the sites have totally disappeared. According to Dr Ibrahim, they even found megalith structures and prehistoric tradition funerary monuments for dead ancestors in KDA Plan 36, Gulistan-e-Jauhar.

Published in The Express Tribune, November 3rd, 2013.
COMMENTS (11)
Comments are moderated and generally will be posted if they are on-topic and not abusive.
For more information, please see our Comments FAQ