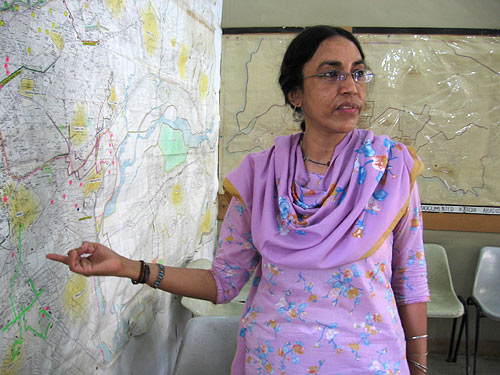 ---
ISLAMABAD:



More than six months have passed and yet it is still difficult for Parveen Rehman's family and thousands of her well-wishers to accept that she is no more with them.




On March 13, Rehman, the director of the Orangi Pilot Project in Karachi, was killed while heading home from her office. Her family and friends are still seeking justice, asking the painful 'who' and 'whys'.




"We have filed a petition in the Supreme Court but we have not got a date for the hearing of her case," said Aquila Ismail, Rehman's elder sister, while speaking to The Express Tribune after the concluding ceremony of a two-day conference marking Rural Women's Day at Lok Virsa on Thursday.

"My sister, who was an architect by profession, always taught us to be peaceful, tolerant and hopeful, therefore, we are following her path and waiting for her killers to be standing in the dock," Ismail said. She said they want a judicial commission to be established to probe her murder.

Ismail said Rehman did not have any enmity with anyone and she had never received a direct threat from anyone.

"Her only crime was that she worked for the poor segment of society and made all-out efforts to provide them with clean drinking water and shelter," she said.

Ismail was out of the country when she got a call from one of Rehman's colleague who told her Rehman had been shot on that fateful day.




"I can never forget that long pain-staking journey from UAE to Pakistan, though it was only three hours long, it seemed like decades were flying by," she said

Ismail revealed that to-date, they have kept the tragic news from their mother.

She further said that till-date their mother does not know that Rehman was killed so brutally. "I know she would not be able to bear the horrific details of her dearest daughter's death, therefore I told her she died in a road accident," she said.

The day she was killed, all television sets were turned off at our home in Karachi and we hid all the newspapers from her from then on. "I took her to UAE with me two months after the incident and since then my mother has not said a word about her," said Ismail.

In a tragic telling of fate and how it mysteriously it works, Rehman's mother is unable to forget how Rehman came back home immediately after leaving on that fateful morning to say goodbye once more —  something she had never done before, recalls Ismail.

A tribute was paid to Rehman at the Rural Women's Day conference and participants took part in a signature campaign aimed at demanding justice for her from the Chief Justice of Pakistan.

Published in The Express Tribune, November 2nd, 2013.
COMMENTS
Comments are moderated and generally will be posted if they are on-topic and not abusive.
For more information, please see our Comments FAQ