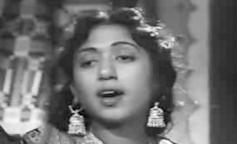 ---
LAHORE: Zubaida Khanum, the much-loved voice behind naat 'Shaah-e-Madinah' and  hits like the 1953 film 'Shehri Babu' passed away from prolonged illness in Lahore on Saturday, Express News reported.

She was over 80 years old.

Back in the 1950s, Khanum was the top female singer in Pakistan for both Urdu and Punjabi.

She was first introduced in the film 'Billoo' in 1951, but it was her playback singing in 'Shehri Babu' in 1953 that took her to the heights of stardom in the Pakistani film industry.What followed were various hit songs including 'Teri ulfat mein sanam dil nai buhut dard sahey' and 'Kaise kahoun mein Alvida' that defined not only her career but earned her a place in the hearts of Pakistani film and music aficionados.

The well-known naat 'Shaah-e-Madinah' was also originally rendered by Zubaida Khanum.

Besides singing for many popular and classic films like 'Sarfarosh', 'Hameeda', 'Sath Lakh' and 'Baghi', Khanum was cast as a second heroine in 'Patay Khan' with Zarif alongside Madam Noor Jehan, the lead heroine.

Zubaida Khanum's family had migrated from Amritsar to Lahore after Partition, but unlike many singers, she pursued music and singing not out of family tradition but personal passion.