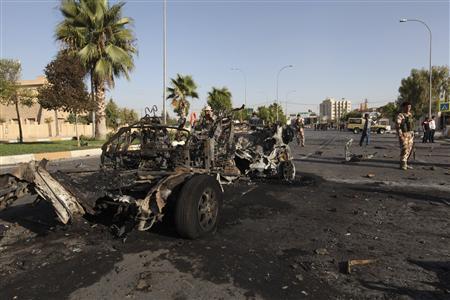 ---
BAGHDAD: An al Qaeda front group said it carried out an attack on security forces in Iraq's usually-quiet autonomous Kurdish region, in a statement posted on the Honein forum on Sunday.

The Islamic State of Iraq and the Levant said the September 29 attack was in response to Kurdish region president Massud Barzani's alleged willingness to provide support to the government in Baghdad and to Kurdish forces battling militants in Syria.

Militants killed seven members of the asayesh security service and wounded more than 60 people in the late-September attack in the Kurdish region's capital Arbil.

The asayesh said a suicide bomber detonated explosives at the entrance to their headquarters, after which asayesh forces clashed with four more bombers, killing them, before yet another detonated an explosives-rigged ambulance.

The attack was the first such to hit Arbil since May 2007, when a truck bomb exploded near the same asayesh headquarters, killing 14 people and wounding more than 80.

While Iraq's Kurdish region is usually spared the near-daily violence plaguing the rest of Iraq, it has become increasingly embroiled in the bloody conflict raging across the border in Syria.

Clashes between Kurdish forces and militants trying to secure a land corridor connecting them to Iraq pushed tens of thousands of Syrian Kurds across the border, seeking refuge in Iraqi Kurdistan.

Barzani threatened to intervene in the Syrian conflict to protect Kurdish civilians, although officials have since backtracked on his remarks.

Iraqi Kurdistan enjoys a high level of autonomy from Baghdad, and the regional parliament has passed laws on a wide range of issues. The Kurdish region also operates its own security forces and visa regime.