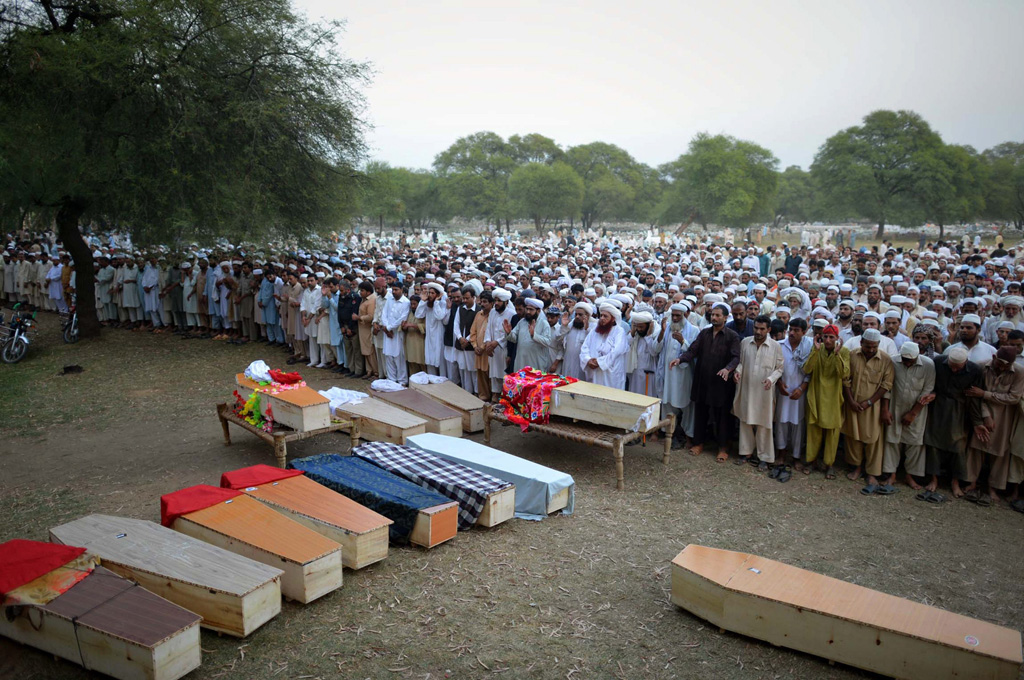 ---
SHABQADAR/ CHARSADDA: School peon Sartaj Khan was happy. His younger son, Dilraj Khan, was getting married in a week. Invitation cards were sent out and wedding arrangements were finalised. Then the Qissa Khawani blast happened. And the joy turned into mourning. The family lost 17 members. 

On Sunday, the family hired a Suzuki pickup and left for Peshawar to invite relatives and do the shopping. "Seventeen members of Sartaj's poor family – including men, women and children – were aboard the pickup. They had contributed money to pay for the rent," a relative told The Express Tribune.

The pickup pulled up at a popular ice-cream parlour in Qissa Khawani Bazaar when the car bomb went off. Tragically, all 17 family members were killed when the blast ignited a huge fire which engulfed the vehicle.

"I am ruined. All of my family has died except for this little one who was ill and didn't accompany the family," said Malak Taj Khan, the elder son of Sartaj, pointing to his seven-year-old son Hamza in his lap. Malak Taj is a soldier in the army and posted in Peshawar. He was home in Shabqadar when the tragedy struck.

Malak Taj lost his wife, two young sons, mother, a brother and sisters. He spoke to The Express Tribune between sobs as mourners cried over eight bodies lined up in his  small house – too small to accommodate the mourners.

"Who will now call me uncle?" said Malak Taj's brother, Mimraj Khan, a day labourer. "My young nephews, my mother, my brother, my sisters, and my sister-in-law are all dead. Who will look after the shattered family now?"

His brother and would-be groom Dilraj Khan fell unconscious after hearing the tragic news. "Had I knew this wedding would become a doomsday for my family, I would have never agreed to tie the knot," he said as friends and family members tried to console him.

It was a tragedy not only for Sartaj's family but for the entire impoverished village – a cluster of mud-houses situated near the Afghan refugees camp Munda. Sartaj Baba, as he's locally known, was not in the hujra to accept condolences according to Pakhtun traditions. He was at a neighbour's place as he could not face the sight of eight caskets in the courtyard of his house. His three sons were also dumbfounded – losing consciousness at intervals.

Apart from Sartaj's family, a close relative Said Afzal also lost his wife and son in the Qissa Khawani Bazaar blast. The driver of the pickup, Bahar Khan, and cleaner, Sohrab Khan, were also related to Sartaj's family.

Published in The Express Tribune, September 30th, 2013.