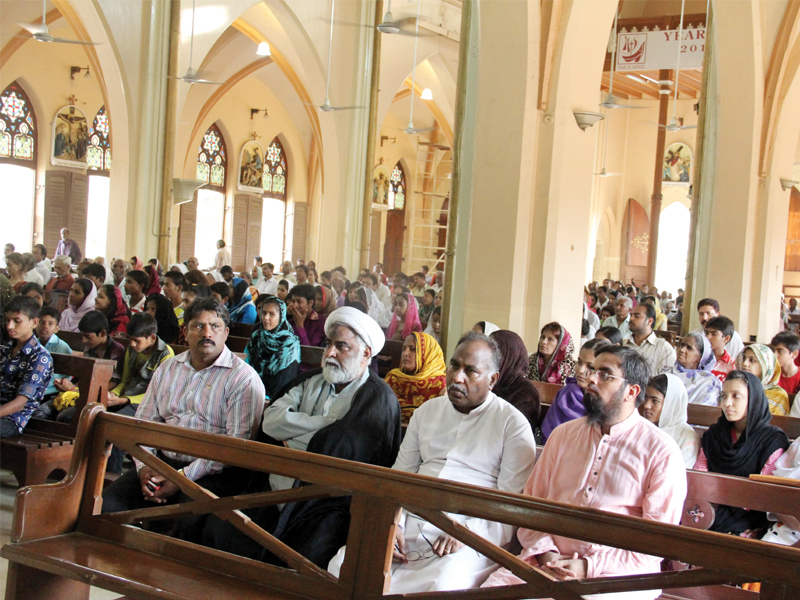 ---
KARACHI: Beneath the intricate stained-glass windows and life-size statues, worshippers at the St Patrick's Cathedral were joined by their Muslim brethren in a rare show of solidarity as they clasped their hands in prayer and sang from the hymn opus as part of the Sunday Mass.

Pakistan for All - a collective of citizens concerned about the growing attacks on minorities - had invited Pakistanis of all faiths to observe the next Sunday as 'national day of prayer and resistance' in what could be termed as a rejoinder to the blasts at All Saints Church in Peshawar a week earlier.

After the prayers by Father Saleh Diego for peace and prosperity in the country, two Muslim scholars, Mufti Faisal Japanwala and Agha Abid Raza Irfani, were allowed to address the participants from the pulpit - a rare sight in the city.

The compound in which the Neo-Gothic edifice of 1881 stands, dozens of civil society members, religious scholars, politicians, artists and academics stood vigilant for the duration of the mass and later linked their arms to from a symbolic human shield around the church to express their "defiance to the extremist forces and solidarity with the minorities".

"We asked citizens and religious leaders to pay their respect to the memories of the Peshawar blast victims and join in a collective prayer of peace and solidarity at the cathedral," said Jibran Nasir, one of the collective's core team members, told The Express Tribune. "We are resolved to stand in the way of those who seek to oppress our brothers and sisters."

Nasir emphasised the need for all Pakistanis to stand up and be counted. "We are one - one nation and one blood."

Nevertheless, the response that the collective received from the civil society was upsetting for a few. "I feel disappointed at the outcome of the civil society," admitted Irum Farooqui, a provincial lawmaker representing the Muttahida Qaumi Movement (MQM). Despite several messages and invitations, very few people bothered to show up today, she complained.

"We are here to give this feeling to our Christian brothers and sisters that they are not alone and we stand by them," said Farooqui, who had arrived at the venue along with two other MQM lawmakers, Mehmood Abdul Razzaq and Arif Masih Bhatti. She was of the view that until people belonging to different religions in the country were labelled as 'minorities' instead of Pakistanis, we will fail to give them their due rights.  Pakistan Peoples Party's lawmaker Sharmila Farooqui and Pakistan Tehreek-e-Insaf's Dr Arif Alvi and Samar Ali Khan were also present to show their support. "Our solidarity is a message to the terrorists that we are united," said Sharmila. "We respect other religions and we will fight against extremism in unison." The people who came for Sunday Mass said they felt strong by the show of solidarity. "Today, I felt as if Pakistanis came out to protect each other as a nation, which is not divided in myriad of religious and ethnic labels," said young Claudina Fernandez.

Correction: Earlier, story wrongly mentioned the name of Agha Abid Raza Irfani as Allama Agha Iftikhar Abid Naqvi.

Published in The Express Tribune, September 30th, 2013.