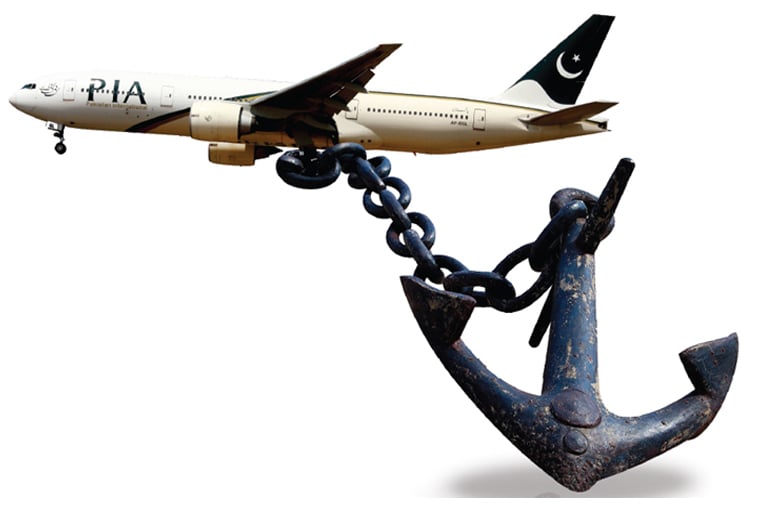 ---
KARACHI:



The entire story of the Pakistan International Airlines (PIA) can be summed up with these letters: AP-BCD. That is the registration number of a Boeing 737, which PIA leased to Emirates in 1985 to start operations. After 28 years PIA is still flying it, struggling to fund replacement, while the Dubai-based carrier has built one of the most modern fleets in the world.




This is an of-repeated fact in the PIA. Employees love to talk about it, reflecting upon the past glory of the airline which is now bleeding over Rs30 billion a year.

It is difficult to analyse the PIA problem in the light of passenger traffic, yield, cost per employee, available seat kilometres (ASK) and available tonne kilometres (ATK). No matter how hard one tries, everything boils down to some sort of emotional, not rational, conclusion as drawn by thousands of employees and millions of its loyal passengers.




References are made of the legendary Air Marshal Nur Khan, the two-time managing director, and the airhostess Momi Gul Durrani, called 'The Face of PIA'.

During discussions, former managers bang their heads on the table swearing PIA turnaround is possible in a year. They accuse government of giving precedent to politics in appointing successive chief executive officers. Employees point fingers at incompetent managers. Consultants say half of the workforce is a drag on the airline.

Since 2001, PIA posted profits only in 2002 to 2004 period. Like all the legacy carriers, be it Air India or Lufthansa, PIA has suffered from ever-increasing fuel costs, inherent inefficiencies and lack of capital injection when it was needed the most.

Ahmad Saeed was the last MD to steer PIA into profits. "We asked General Pervez Musharraf to support us and let us do what we wanted to do. Our loans were restructured and from a loss of Rs2.2 billion in 2001, the airline made a profit of Rs1.8 billion in the following year," Saeed said.

But was that turnaround possible without government support? Probably not! Saeed's management convinced Islamabad to arrange a bailout package of Rs20 billion, which meant payment off long-pending loans, plugging interest drain and cash equity injection of Rs8.82 billion.

PIA used the equity injection to lease three Boeing 777-200 and six Airbus 310 aircraft in 2004. It was after 13 years that the airline inducted planes to its aging fleet. New planes allowed the airline to start flights to Chicago, Toronto and London.

But that was also the year when airlines around the world started to feel the impact of rising fuel prices. For Pakistani carriers there was an additional problem of rupee depreciation which was slowly creeping up but had yet to cause major damage.

In subsequent years, CEOs will partially blame debt repayment burden, piled up due to acquisition of B-777s, in spoiling the financial statements. Altogether, PIA acquired nine B-777s at a cost around $1.5 billion.

"Unfortunately, all the loans were locked in dollars and the rupee depreciation was not foreseen (to hurt) at that time," said Ahmad Saeed. "We were not allowed to forward-book dollars at that time."

There was another change that took place. "Real fault for this mess lies with the open skies policy. We also faced the problem when Emirates was being allowed just two additional flights. But we asked the government to shoot down the proposal."




The year 2005 was a watershed. Jet fuel price shot up from Rs71.68 per gallon to Rs102.05 – a 42% jump in a year. Tariq Kirmani, who is widely credited for reshaping Pakistan State Oil (PSO), took charge from Saeed. But it was a shock, which would not let PIA recover in the coming years as fuel ate over 40% of revenues.

More worries lay ahead. On July 10, 2006, PIA's Fokker crashed in Multan, necessitating it to ground all Fokker planes and expediting their replacement with twin turboprop ATRs – that meant an additional $100 million in debt.

In March 2007, European Union authorities banned PIA's B-747 and A-310 from flying to member states, leaving the airline with just B-777s for high-yield markets.

As the Pakistan People's Party (PPP) government came to power in the following year, restrictions on labour unions were eased. Strongman Captain Aijaz Haroon was appointed as the MD.

Oil surged to over $147 a barrel in July 2008, forcing airlines to completely change their ways. The year also saw global financial meltdown with bad repercussions for Pakistani rupee, which went down 28%.




"That was the time airlines had parked their aircraft to save fuel costs. PIA should have cut back on loss-making routes aggressively but that didn't happen," said a former director of marketing.

Still in fiscal 2007-08, PIA was carrying 43.1% of the international traffic from Pakistan, followed by the second highest market shareholder Emirates at 14%.

That was also the worst year for the national flag carrier as it posted a loss of Rs35.88 billion. It was also the time the government started drip-feeding the airline by helping it to arrange loans, most of which were used to pay vendors and salaries.

Industry officials blame this myopic approach for many of the ills. Government should have made a capital injection like it did in 2003. That would have helped it buy desperately needed narrow body aircraft, they say.

As airlines around the world were slashing costs by sacking employees, cutting weight of the aircraft and managing the fleet efficiently- the management of PIA was embroiled in a tussle with unions.

Credit goes to Aijaz Haroon under whose tenure PIA recorded marginal operating profit of Rs720 million in 2010, reflecting better utilisation of fleet.

The ultimate finale came as Haroon had to resign in February 2011 when  employees went on a strike against a proposed agreement with Turkish Airlines to code share the routes.

In the last two years, PIA has gone completely to the verge of collapse with the government giving it piecemeal support to meet day-to-day expenditure of billions, demanding neither better performance from the management or giving money for newer aircraft.

Now, with a fleet of 38 planes, PIA can operate just 25. Often it does not even have money to pay for spares. In any case, operating old planes like B-747s mean loss.

Shortage of planes for small-haul operations within the country or flights to Gulf States forced PIA to use B-777s. "That's criminal. You can't use a B-777 on domestic routes. Its landing gear needs to be changed after fixed hours whether it goes to Lahore from Karachi or Paris," said an aviation expert.

For years, PIA has relied on a loyal customer base, arguing they will help it remain afloat no matter what. That might just be changing. In 2007-08, private airline Shaheen Air International carried just 280,615 passengers. In the last fiscal year, it flew over one million people. PIA has not moved an inch.

1946

Orient Airways starts flying with two DC 3s

 1955

Government incorporates Orient into Pakistan International Airlines

1955

First international flight flies to London via Cairo and Rome

1959

Air Marshal Nur Khan takes over PIA leadership

1960

PIA becomes Asia's first jet operator by acquiring B-707

1961

First trans-Atlantic flight goes to New York

1964

Commercial flights to Beijing, becoming first only non-communist carrier to do so

1965

PIA provides logistic support to military during the war

1971

PIA loses some of its assets after seperation of East Pakistan

1973

Nur Khan called to resume leadership during crisis

1981

First financial bailout from govt

1985

PIA acquires six B 737-300s

1991

PIA gets first of six A-310s – last addition for next nine years

1999

PML-N govt removed along with MD Shahid Khaqan Abbasi

2002

PIA returns to profitability after a long time

2004

Receives delivery of first B-777

2006

Fokker crashes in Multan killing 45 people onboard

2007

EU imposes ban on PIA aircraft

2008

PIA books highest ever losses of Rs36 billion

2011

MD Aijaz Haroon resigns after labour protest

2013

Government decides to privatise PIA

Published in The Express Tribune, September 30th, 2013.

Like Business on Facebook, follow @TribuneBiz on Twitter to stay informed and join in the conversation.