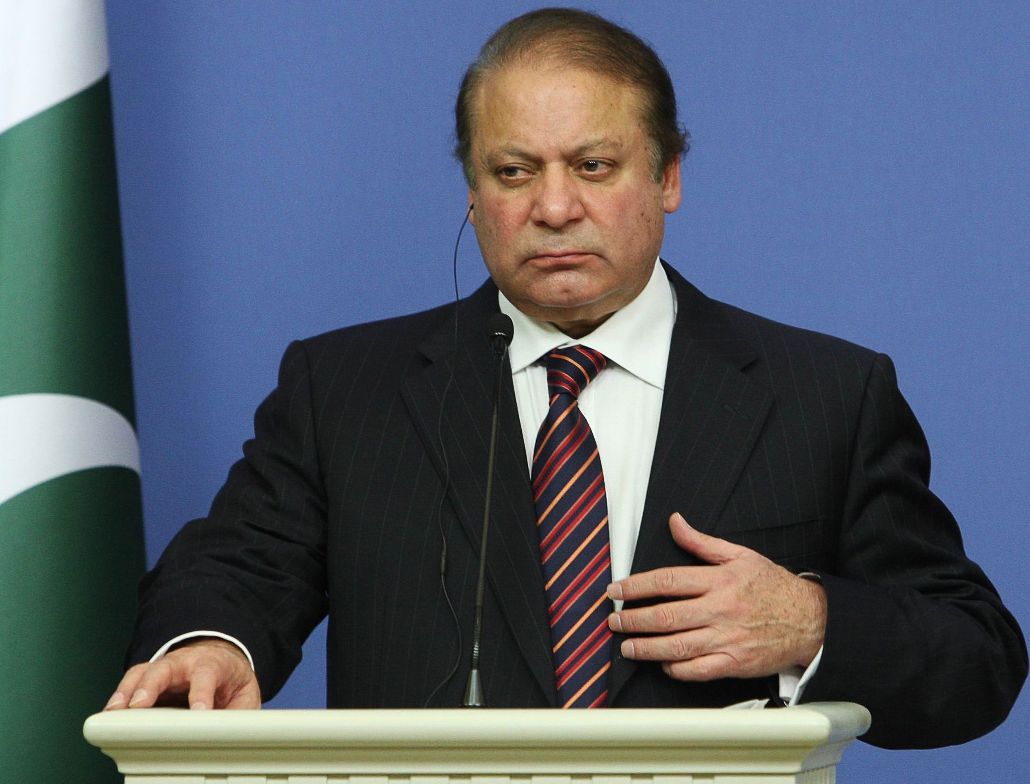 ---
NEW YORK: Prime Minister Nawaz Sharif said on Thursday  that the Taliban will have to renounce terrorism if peace talks are to move forward.

In an interview with the Wall Street Journal during his first visit to New York after being elected in May, the Prime Minister said, "we evolved a consensus... on a joint strategy to put an end to terrorism in Pakistan [through peace talks]."

Asserting that the Taliban had disowned the bomb attacks on All Saints Church, he said that the Taliban hadn't done that before but the intelligence agencies were still investigating the matter. He revealed that contrary to media reports the Taliban had also disowned the attack that killed a two-star General in Dir.


"As far as the tragic incidents are concerned, they are unacceptable. There cannot be any compromise on that," he added.

The Prime Minister said that the Taliban offered a dialogue themselves and the political parties decided to respond to their offer positively.

However, he added that the Taliban will have to renounce terrorism.

"They will have to say they are keen to do business with the government. They will have to abide by the Constitution of Pakistan. We're also waiting for their response, what they have to say in this regard," he said.

"If we agree on addressing this terrorism, (Taliban) will have to be disarmed, lay down their arms," the Prime Minister added, but made it clear that while the government wanted a peaceful resolution, it hinged on the Taliban laying down their arms and accepting the Constitution.

New Chief of Army Staff

When asked if there was a possibility that Chief of Army Staff General Ashfaq Kayani will be given an extension, Nawaz said that no decision had been reached on the subject.

"I'm not saying yes or no. Of course, we will be taking a decision on this issue soon."

Responding to a question about the next army chief, he said, "there's still time. I'll handle it."

Ties with India

Asserting that he was the one who had brought the two countries together, Prime Minister Nawaz Sharif said that the two neighbouring countries were picking up the threads from where they left off in 1999.

"I will be having a meeting with the Indian prime minister here in the next few days," he said, adding that his government stood for peaceful resolution of all issues with India, including Kashmir.

Talking about the issue of Siachen, he said, "both countries' armies are sitting at an altitude of more than 22,000 feet high. I don't know what sense it makes in this modern age that armies are sitting at more than 22,000 feet. I think we have to resolve this issue as well."

The Prime Minister said that both the countries were spending a lot of money and resources building up their defense.

"We have been spending resources which should have been spent on social sectors on buying F-16s, frigates, tanks, expensive submarines," he said, adding that India was spending more resources on its defense than Pakistan.

Relations with US

Prime Minister Nawaz Sharif said that he had a good rapport with the American government.

"President Obama was very kind to call me up immediately after my election and express his desire to work with Pakistan," he said, asserting that he wanted to work with the US.

Drones

The Prime Minister said that the issue of drones was discussed with Senator John Kerry when he visited Pakistan.

Asserting that the drone strikes were counter productive, he said, "the more the drones, the more the terrorists get multiplied. You kill one man, his sons, his father, his brothers, they become terrorists. So this is something that is not helping at all."

He said that he plans on taking the matter up with President Obama in their forthcoming meeting.

Iran Pipeline

The Prime Minister said that the previous government had signed an agreement with Iran on the gas pipeline and the Pakistan Muslim League-Nawaz (PML-N) led government needed to proceed with it.

"There will be a $3 million daily penalty from Iran if that's not completed by the end of next year," he said, adding that the only way they could retract from the agreement was if the US provided gas or the daily $3 million penalty.

"There is an acute shortage of gas in Pakistan, so we have to import gas from somewhere," he said.
COMMENTS (16)
Comments are moderated and generally will be posted if they are on-topic and not abusive.
For more information, please see our Comments FAQ