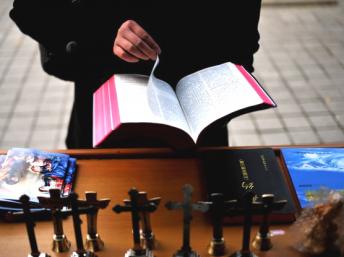 ---
PESHAWAR:



Christian representatives have demanded army deployment at churches to prevent future terrorist attacks.




Security arrangements for churches are ineffective as witnessed in the twin suicide blasts on September 22, said Pakistan Muslim League-Nawaz (PML-N) minority wing leader Nasir Masih Sahotra. Christians now want the army to protect their churches, he added.

"We believe inadequate security is the main reason behind the successful attack on All Saints' Church near Kohati Gate. More steps should be taken to protect our places of worship," maintained Sahotra.




He further said the number of people who died in the September 22 attack is higher than the official figure released.

"We have prepared a list of 139 dead and 160 injured. Most people did not go to the hospital and were directly taken to their houses for burial," Sahotra told The Express Tribune on Thursday. Relatives of the deceased are now getting death certificates issued from the Lady Reading Hospital (LRH), he added.

Sahotra went on to blame the LRH for providing substandard medication to hospitalised victims and demanded better quality medicines be procured and provided to the injured to ensure proper recovery.

Meanwhile, at a news conference at the Peshawar Press Club on Thursday, Christian Action Committee (CAC) general secretary and National Peace Committee for Interfaith Harmony member Khalid Shahzad also urged for better security.

"Christians have been targeted in several incidents in the past." Shahzad sought the deployment of Rangers and the Pakistan Army at all churches across the country. In line with previous demands by Christian representatives, the CAC member demanded arms licences be issued to members of church committees so they provide security as well.

The government did not take previous incidents seriously, which lead to the tragedy in Peshawar, he said.

Flanked by committee members Javed Asim, Qazi Abdul Wahid and Tariq Siraj, the representative blamed the government for failing in its prime responsibility to protect the lives and property of its people, including adherents of other religions.

"We demand stern action be taken against police officials immediately, and the perpetrators of the heinous attack be brought to justice," he said, adding: "Foolproof arrangements have to be made to protect all churches and Christian residential colonies under a comprehensive security plan."

The price of life

Members of the CAC expressed dissatisfaction over the monetary compensation package announced by the government. Calling it a "mockery", Shahzad demanded the federal and provincial government provide Rs2 million per deceased and Rs1 million for each of the injured.

The government should also bear expenses of education, health and other needs of those children who were orphaned or left disabled in the wake of the attack.

Safety for all, safety  for none

After the number of policemen was increased at churches, especially in Peshawar, Hindus fear for their safety at temples, particularly during morning and evening worship.

While police personnel have increased at churches after September 22, our temples have been completely ignored, All Pakistan Hindu Rights Movement (APHRM) Chairman Haroon Sarbdyal told The Express Tribune.

"Police contingents have been provided to every church in the city and the number of policemen have been increased at the Sikh gurdwara in Mohallah Jogan Shah. On the contrary, there is no security at Hindu temples in the city."

"There is no security for our Mandan Gate temple in Bannu. Four policemen who are deployed at the Kohat temple have occupied a room inside, making it difficult for worshipers. In Abbottabad, the police have asked the temple administration to provide accommodation for their personnel in order to provide security," complained Sarbdyal.

Only two policemen were at the Pir Rathan Nath temple in Karimpura without any equipment; even without metal detectors, he added.

Hindus are not satisfied with these 'arrangements', and feel open to all kinds of terror attacks, said the APHRM chairperson.

Published in The Express Tribune, September 27th, 2013.
COMMENTS (1)
Comments are moderated and generally will be posted if they are on-topic and not abusive.
For more information, please see our Comments FAQ