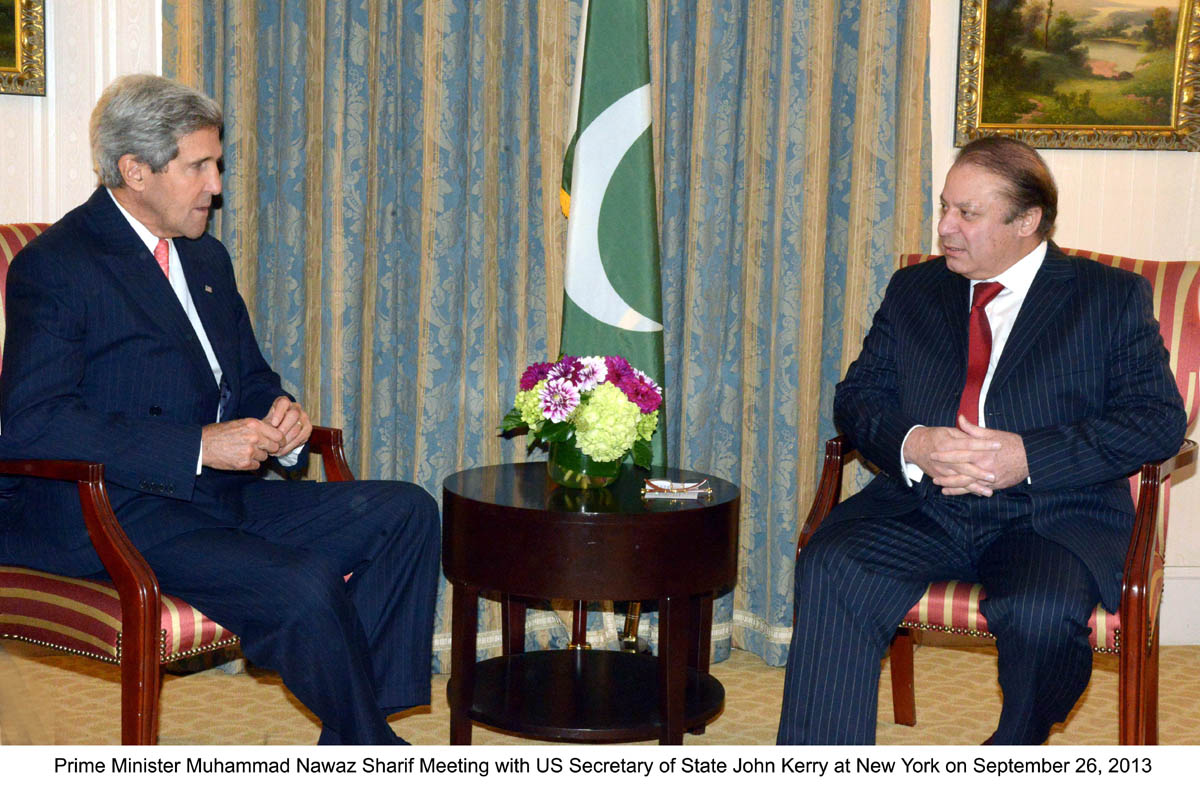 ---
NEW YORK: Pakistan and US reviewed their state of bilateral relationship and agreed to intensify the engagements in the coming weeks and months as US Secretary of State called on Prime Minister Nawaz Sharif in New York on Thursday. An invitation to visit was also extended to the premier.

Nawaz, who is in New York to attend the United Nations General Assembly summit, was called on by the Kerry.

According to an official release from the meeting, the two discussed matters of mutual interest including regional stability and situation in Afghanistan.

Nawaz emphasised that greater trade between Pakistan and the US would contribute to the economic prosperity of the people of Pakistan and help in evolving a mutually beneficial relationship between the two countries.

The two sides reviewed the state of bilateral relationship and agreed to intensify the engagements in the coming weeks and months to further expand and deepen bilateral cooperation in all areas.

It was also agreed to convene meetings of the various Working Groups under the revived Strategic Dialogue mechanism.

Invitation to visit Washington

Kerry, on behalf of US President Obama, extended an invitation to Nawaz to visit Washington.

President Obama will welcome the Prime Minister to the White House on October 23.

This high level interaction, Secretary Kerry stressed, would provide the necessary impetus to move towards a long term Pakistan-US engagement.

The Prime Minister was accept the invitation.

The announcement of Sharif's visit also came from the White House as the premier met US Secretary of State John Kerry on the sidelines of the UN General Assembly in New York.

"The president looks forward to discussions with Prime Minister Sharif on ways we can advance our shared interest of a stable, secure, and prosperous Pakistan," White House spokesperson Jay Carney said in a statement.

"The visit will highlight the importance and resilience of the US-Pakistan relationship and provide an opportunity for us to strengthen cooperation on issues of mutual concern, such as energy, trade and economic development, regional stability, and countering violent extremism."

The announcement of Sharif's visit came on the eve of a meeting between Obama and Indian Premier Manmohan Singh at the White House on Friday.

Singh and Sharif are expected to meet at the weekend at the UN General Assembly in an attempt to quell rising border tensions between the rivals.

After Kerry met Sharif, who was elected in May, a senior US official praised his effort to lower tensions in volatile South Asia.

"In the short intervening period (since Sharif's election) he's made it clear that he's committed to improving relations not only with his neighbors but also importantly with the United States," the official said on condition of anonymity.

The officials predicted a "full agenda" for the White House talks but also warned of "frank discussions about some serious challenges and some serious concerns."
COMMENTS
Comments are moderated and generally will be posted if they are on-topic and not abusive.
For more information, please see our Comments FAQ