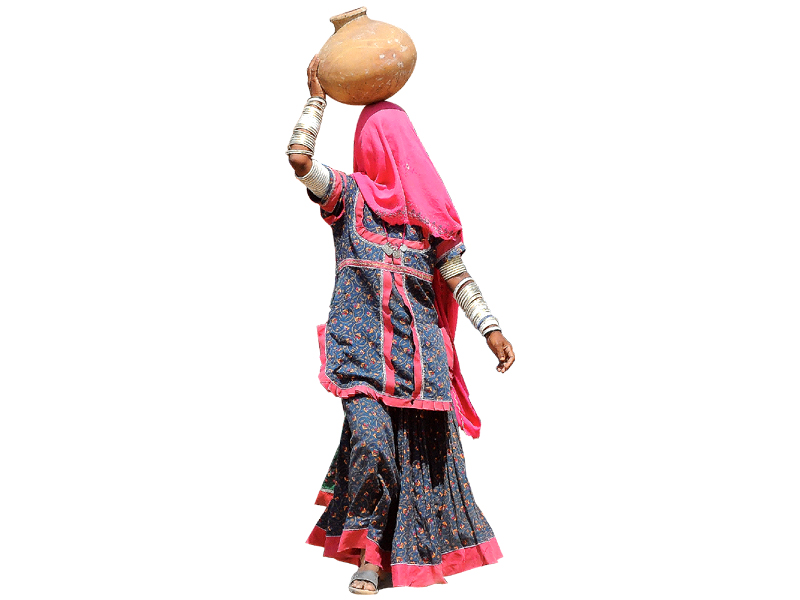 ---
In the Cholistan desert or Rohi it can go up to 51 degrees at times. Rohilas form long lines that snake through the sands. They go in search of water and fodder for their livestock, their only asset. Many of them will sigh and wonder what sin their forefathers committed that the land dried up.

"Their movement from one to another place is a very tough exercise," says a social worker Riaz Baloch with the Al-Sadiq Desert Welfare Organisation. Imagine your family having to migrate from one town to another. These folks need to do it many times a year. They don't have a permanent home; the entire Rohi is their home.

The desert is about 2.6 million hectares and its population is about 150,000 people and two million livestock animals. You cannot farm here because there is no river and barely any rainfall. More than 81% of the desert is sand dune. This means that there has been too much overgrasing and subsequent soil and wind erosion.

"Rohi once used to be a green valley, but ecological changes have transformed it into a barren desert," says Baloch. Humans and cattle drink from the same small puddles, and women have to walk miles to fetch water. It mostly rains in July, August and September but you can get as little as 100mm.

The Rohilas never used to be nomads in search of water, says resident Bakhshu. As long as the elegant Hakra flowed through the Indus Valley civilisation, they had a good life. The River Hakra is also known as the Sarswati in ancient Vedic texts. But it dried up centuries ago.

In 2012, the Pakistan Council of Research in Water Resources reported that it had managed to convert 100 hectares of severely desertified land into productive land as a model case by fixing the sand dunes mechanically and by planting vegetation. It built 92 reservoirs or tobas 15 kilometres apart that could store four million gallons annually. It claims that with the addition of 20 deep tube wells and two reverse osmosis plants, drinking water is available throughout the year. But at a recent press conference Cholistan residents said that these reservoirs needed to be cleaned and the government had not given the money to do it.

The council's regional director, engineer Zamir Soomro said that the tobas, which were built on the traditional Cholistani pattern, were contaminated with bacteria which meant that the water could not be used for drinking as such.

"Rohilas use alum to filter the toba water before using it," he explained, adding that their digestive systems were immune to water contamination since they had been using toba water for centuries. He also argued that you could no longer say that Cholistan suffered from 'terminal dehydration' (death due to water scarcity) as water is available throughout the year.

But Riaz Baloch disagrees. He said that the problem is that the tobas have become filled with silt, reducing their water storage capacity by 80%. But no money has been allocated to clean them up this year. "Last year the Punjab government provided around Rs10 million to de-silt these ponds, but only 65% was used and the rest lapsed due to the negligence of the local authorities," he added. And as the blame bounces back and forth, the Rohilas are in all probability preparing to undertake yet another trip in search of water.

Published in The Express Tribune, Sunday Magazine, September 29th, 2013.