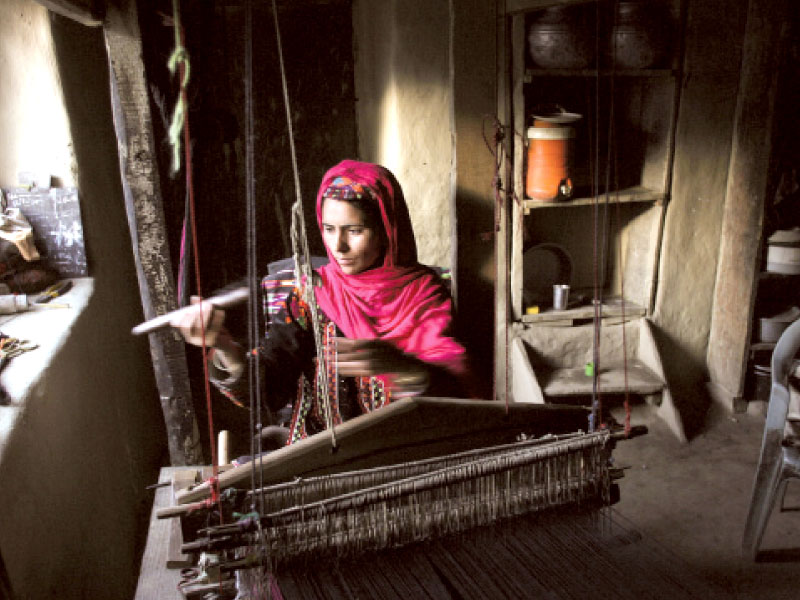 ---
GRACE VALLEY, (AJK):



In his two-room wooden house high in the beautiful Grace Valley in Azad Kashmir, Hidayatullah weaves at a manual paddle loom. Asked how he learned the craft, he gestures to a frail, wizened old man coughing on a bed in the corner.




"I got this skill from my father, but now my son is not taking up this profession. He prefers to work in the fields and sometimes also works as a labourer — it's better money than the loom," Hidayat told AFP.

Weavers have produced exquisite shawls in Kashmir for centuries, but their craft risks dying out in the face of cheap foreign imports and a young generation uninterested in mastering the skill.

Kashmir gave its name to the soft cashmere wool that commands huge prices in the West, but in Hidayat's village there are now only 10 paddle looms, known as khadis, where once there were 100.




Cashmere scarves and sweaters sell for hundreds of dollars in the developed world but Hidayat takes only Rs3,000 — $30 — for the 15 days' labour needed to make a single shawl.

For centuries the people of Grace Valley lived off their livestock, taking their animals up to high pastures in summer and bringing them down in September to shear them and spin the wool.

As snow blanketed the valley for the long months of winter, villagers confined indoors wove shawls, embroidering colourful patterns by hand before selling them in the spring as the emerald slopes returned to life.

Now demand among locals is collapsing.

"A handwoven shawl costs Rs10,000 ($100) while you can get the same kind of shawl in the markets for Rs2,000 to Rs3,000," weaver Zeenat Bibi, 32, told AFP.

Bibi makes shawls with her father-in-law but says no-one else in the family is interested in learning.

"I have a 10-year-old daughter, who asks me why I waste my time doing this strange old job," she said.




In the past, the isolation of the area helped local craftsmen as it was difficult to bring in goods from outside. Now, as communications open up, things are changing.

"These days second-hand clothes with new designs, good material and at cheaper prices are available, so they want to buy these and this old tradition is diminishing day by day," said Fatima Yaqoob, a lecturer at the Arts and Cultural University of Azad Kashmir.

Government help is needed to modernise the industry — in particular to switch from manual to power looms — and encourage more people to go into it, she said.

In India, the government has already stepped in to minimise the impact of similar problems affecting the traditional artisans who make beautiful shawls from special wool from the Pashmina goat.

It has secured a GI (Geographical Indication under WTO) mark for the fabric and the process of shawl making and set up a testing laboratory in Srinagar, the capital of Indian-administered Kashmir.

The finest Pashmina wool is hand-spun into shawls, usually by women. Artisans then embroider them with intricate designs for a finished product that can cost thousands of dollars in the West.

Thousands of Indian Kashmiris are involved in the Pashmina trade, but scarce raw materials and an explosion in fakes worries artisans and traders and many have quit the profession.

"The term Kashmir Pashmina is being misused by very many people around the world," said M. S. Farooqi, who heads the Craft Development Institute in Srinagar.

"The craft of Pashmina making has such a historical context, exquisiteness and uniqueness that it is a coveted product worldwide... and GI will help bring it back to the people and the region it belongs to," Farooqi said.

Scientists at the Sher-i-Kashmir University of Agricultural Sciences and Technology in Kashmir last year succeeded in making a clone of the Pashmina goat, which was called Noori.

The aim is to increase productivity of the Pashmina yielding goats and to send male clones into the environment to breed naturally.

Experiments have shown that while the Pashmina goat can survive at lower altitudes in Kashmir, they do not produce the same quality of Pashmina wool.

"The Pashmina wool produced by the goat in its natural habitat is actually a biological response to the extreme cold weather conditions at high altitude," said Sarfaraz Ahmed, a researcher at the university.

But it's unclear if science can arrest market trends.

"Most buyers find it difficult to distinguish between a fake and a genuine Pashmina shawl," shrugged Mohammad Sadiq Wani, a trader and exporter of Kashmir handicrafts in Srinagar. 

Published in The Express Tribune, September 12th, 2013.