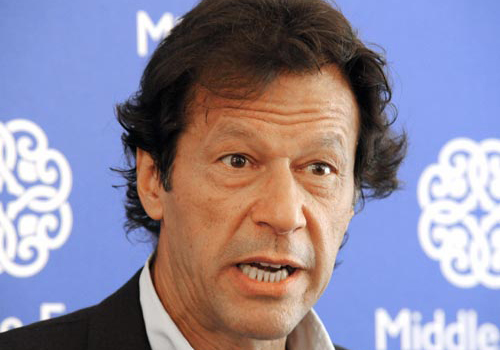 ---
ISLAMABAD:



Pakistan Tehreek-e-Insaf  chairman Imran Khan reportedly convinced army chief General Ashfaq Parvez Kayani to administer a 'phased withdrawal' of troops from the Federally Administered Tribal Areas by initiating peace talks with militants, according to party officials.




"Sending military to tribal areas was a big mistake," a senior PTI leader quoted him as saying to General Kayani prior to the All Parties Conference (APC) held at the Prime Minister's Secretariat on Monday. "Having negotiations and fighting terrorism side by side is not a wise move."

General Kayani, Prime Minister Nawaz Sharif, Interior Minister Chaudhry Nisar Ali Khan and Inter-Services Intelligence (ISI) Director-General Lt General Zaheerul Islam stated that the military top brass agreed a 'phased withdrawal' of troops from Fata, said the PTI official.

During the meeting, he also conveyed his concerns to the ISI DG over militants' attacks on jails in Khyber-Pakhtunkhwa.

Meanwhile, in his meeting with Prime Minister Sharif, the PTI chairman discussed matters relating to the security situation in Balochistan, Karachi and the tribal areas. "'Give peace a chance' should be the guiding central principle of the present government," Khan was quoted as telling Premier Sharif.




A clear and loud message should be sent to Washington to respect Pakistan's sovereignty by ending its drone campaign in the tribal areas, Khan put up his demand before the APC.

He raised other points at the multi-party forum in which he asked the government to quit the US-led war on terror, commence the dialogue process and start truth and reconciliation efforts for promoting peace in the country.

He urged the Pakistan Muslim League-Nawaz government to take up the issue of drone strikes at the United Nations on a 'now or never' basis. "This will be a step in the right direction of proving that Pakistan is an independent state."

The PTI chairman expressed his satisfaction over his meeting with General Kayani and Prime Minister Sharif, reads a statement issued by the PTI office. Khan termed the passage of a unanimous resolution at the APC "a beginning towards extricating the country from war on terror and moving towards a national holistic policy on counter terrorism". It is a good start towards getting Pakistan out of the debilitating US war on terror, he added.

He hoped that now a comprehensive counter-terrorism policy and strategy would be swiftly drawn up and a dedicated institutional structure would be established to implement them. Needless to say, the APC was convened to do just that.

Published in The Express Tribune, September 10th, 2013. 
COMMENTS (31)
Comments are moderated and generally will be posted if they are on-topic and not abusive.
For more information, please see our Comments FAQ