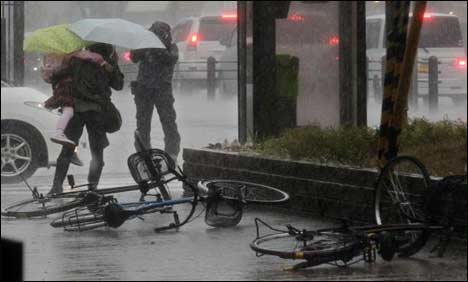 ---
TOKYO: An apparent tornado hit eastern Japan on Wednesday, tearing off roofs and shattering windows, two days after twisters ripped through other parts of the region.

Television footage showed badly damaged houses in Yaita, north of Tokyo, some with their roofs peeled off.

Local rescuers had not received any reports of injuries about an hour after the winds smashed through the area, a local official said, and the roof of a school gymnasium was torn off, and the power supply is cut off," he told AFP "Traffic lights are not working either."

Pictures posted on Twitter and other social networks showed a dark funnel of cloud stretching down to the ground, whipping up debris.

The winds came after tornados wrought havoc in other parts of eastern Japan on Monday, with a large amount of damage in Koshigaya city, northwest of Tokyo.

A total of 63 people were injured and about 110 houses were damaged or destroyed in Koshigaya and surrounding areas.