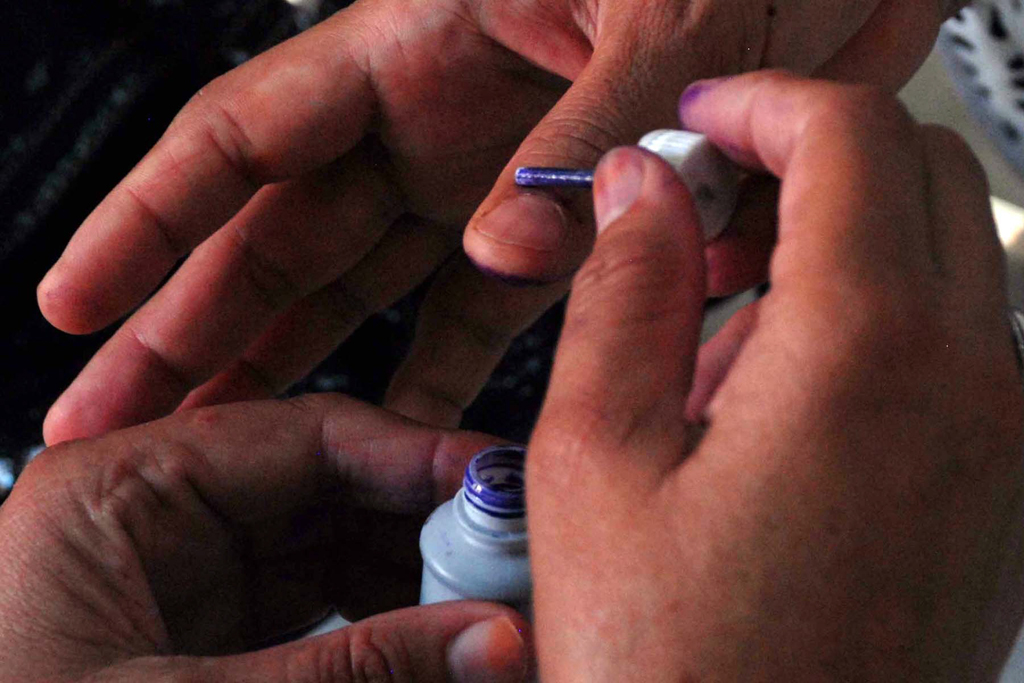 ---
NOWSHERA/ ISLAMABAD/ LAKKI MARWAT/ MARDAN:



The Election Commission of Pakistan has decided to conduct re-polls in two constituencies of Khyber-Pakhtunkhwa following reports of women being barred from voting in the constituencies emerged.




According to ECP officials, the commission will hold re-polls at nine polling stations each in NA-5 Nowshera-I and NA-27 Lakki Marwat. The commission had already postponed by-elections in NA-25 Dera Ismail Khan due to security reasons.

Officials said the date for the re-polls will be decided later.

Local elders had imposed a ban on women voters in the NA-5, NA-27 and PK-27 Mardan-V constituencies, reportedly after reaching an understanding with local political leaders and candidates for the seats. Justifying the ban, the elders said allowing women to leave their houses to vote would violate their cultural norms.

Around 16,000 women in Nowshera were deprived of their voting right as, despite the efforts of senior local administration officials to convince them otherwise, local elders stood firm on their decision. While the Nowshera deputy commissioner and DPO offered to provide transport for woman voters, their offer was rejected by the elders in the district.

Although 63 of the 128 polling stations in Lakki Marwat had been reserved for women, they too could not leave their houses to vote due a ban announced by local elders. Talking to reporters, former district nazim Muhammad Bashir said the decision to impose the ban was made jointly by the elders and political leaders of the district.




However, women in the Nawar Khel area of Lakki Marwat were allowed to vote following a protest by the workers and supporters of Pakistan Tehreek-e-Insaf in the locality.

Similarly in PK-27, women did not cast votes despite the fact that five polling stations were set up exclusively for female voters. Talking to The Express Tribune, the staff of the women-only polling stations PS-64 and PS-65 confirmed not a single vote was cast.

"The decision [to bar women from voting] is clear-cut and in line with the customs of our people," said Maulana Hidayatur Rahman, a resident of Lakki Marwat's Bakhmal Khel union council.

"Any woman who would have voted would have been punished," he added. Rejecting criticism against the ban, Rahman said women from the area were facing several 'much more important' issues other than voting rights.

Maulana Samiullah, a resident of Lakki Marwat's Kashmir Kot area, defended the ban on women voters saying that the votes of men were sufficient.

"If male voters can decide the fate of a candidate then there is no need for women, whose votes would've been dictated by the male members of their family, to vote," he said.

Meanwhile, K-P Chief Minister Pervaiz Khattak ordered an inquiry following reports of the ban on women voters. Peshawar High Court Chief Justice Dost Muhammad Khan took notice of the reports as well and directed concerned officials to take necessary steps to ensure women could exercise their voting rights.

Earlier, PTI chairman Imran Khan condemned the ban on women voters and urged ECP to probe the issue.


Published in The Express Tribune, August 23rd, 2013.
COMMENTS (9)
Comments are moderated and generally will be posted if they are on-topic and not abusive.
For more information, please see our Comments FAQ