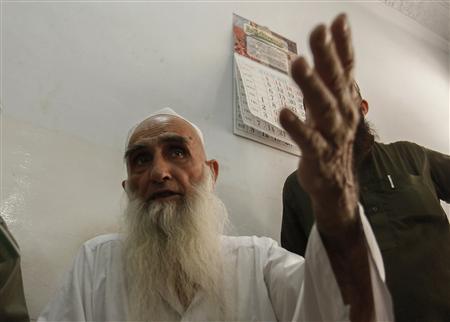 ---
PESHAWAR: Students and teachers at a Peshawar based madrassa, designated as a "terrorist training center" by the United States on Tuesday, have furiously rebutted the charges Wednesday and said they had not had a chance to defend themselves against the accusations.

The US Treasury imposed economic sanctions on the Ganj madrassa, in Peshawar on Tuesday, saying it trained recruits and facilitated funding for al Qaeda, the Taliban and Lashkar-e-Taiba, which is accused by Indian intelligence of masterminding the 2008 Mumbai attacks.

The sanctions include a ban on US citizens having any dealings with individuals or assets linked to the school. The Pakistan Interior Ministry and army declined to comment on the decision.

The Treasury had said Fazeelatul Shaykh Abu Mohammed Ameen al-Peshawari, known as Shaykh Aminullah, controlled the school. In 2009, both the US and the United Nations accused him of providing material support to al Qaeda and the Taliban.

But 83-year-old Haji Alam Sher, who founded the school as a mosque more than two decades ago, denied this.

"He was just a regular prayer leader here but he left eight months ago and I've never heard of him again," Sher said angrily. "I condemn perpetrators of terrorism and would never support those carrying out suicide attacks."

The United States accuses the school of radicalizing students to conduct terrorist and insurgent activities and training them to become bomb manufacturers and suicide bombers.

Donations collected for the school were directed to terrorist groups such as the Taliban, which used the money to fund the ongoing violence in Afghanistan, the Treasury said.

But the school's principal said teachers focused on religion, not militancy.

"This is a religious school where purely religious knowledge is given to the students," Maulana Mohammad Ibrahim said.

The brown concrete school lies down a narrow street in the heart of Pakistan's northwestern city of Peshawar, the capital of Khyber Pakhtunkhwa province, not far from Pakistan's tribal belt where Taliban-linked militants are ensconced.

Since the announcement of the seminary's designation, some residents are afraid that the US might mount an attack. US drone missiles have targeted militants in areas near the Afghan border since 2004.

"Some people are saying that US drones will now fire missiles to hit this madrassa," said resident Sabz Ali. "All of us are worried."