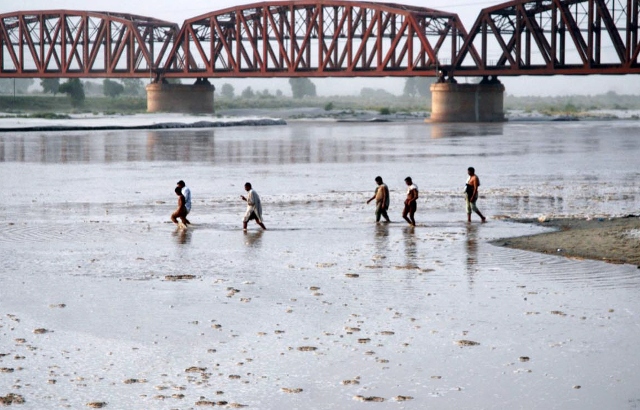 ---
LAHORE: Over one hundred thousand cusecs of water will pass through Head Ganda Singh within 18 hours -- a record amount since the last 25 years, reported Express News.

India released water into River Sutlej for the second time despite flooding in nearby villages. As a result, villages located by the river bank will most likely be destroyed completely while more than 50 villages near the river will suffer damage.

These villages are being evacuated by rescue teams and the residents are being taken to relief camps on higher ground.

Spillways have been opened in Tarbela dam to reduce the height of the water.

The flood in River Ravi has so far deluged 17 villages including Dalwan, Chishtian, Hashim Chakreeb, Jungle Seet and Bhopri in Mian Channu. Some of the villagers have alleged that not opening the gates of Head Sidhnai could have saved them by causing water level in the river to fall but this was not done.

In Kasur, crops over hundreds of acres of land have been damaged and several villages inundated due to flood in River Sutlej. The flood has so far affected Ganda Singhwala, Bhikki Wind, Gitti Kalunger, Nagar Aimen, Mahiwala, Talwar Post, Basti Bangladesh and Bilalwala.

The health, livestock and other departments concerned have set up camps to vaccinate livestock.

The Khanewal district administration has said that it is prepared to deal with any emergency in Kabirwala and Mian Channu in case of a flood.
COMMENTS (57)
Comments are moderated and generally will be posted if they are on-topic and not abusive.
For more information, please see our Comments FAQ