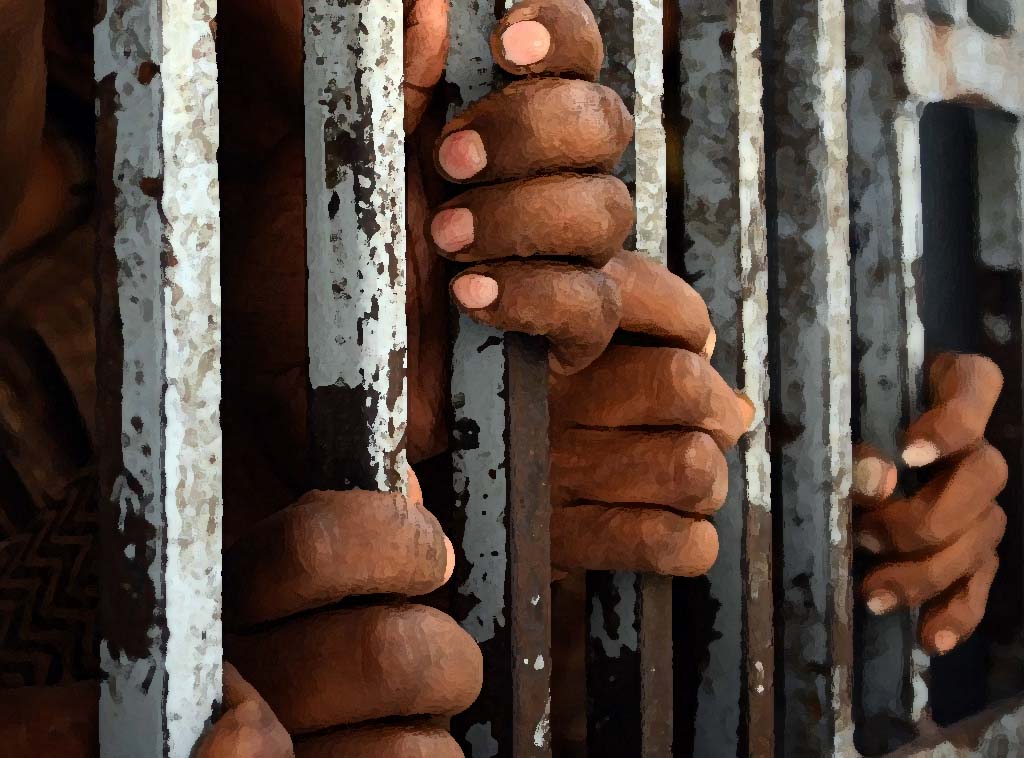 ---
ISLAMABAD:



More than ninety Pakistanis allegedly detained in Indian jails are not on the radar of Indian authorities. A list of Pakistanis detained in India submitted to Pakistan's high commissioner in India mentioned 386 prisoners.




Pakistan's foreign affairs ministry and the high commission in Delhi however claim the total number of Pakistanis detained in Indian prisons is 485. There was a disparity of 99 prisoners in the figures provided by the Indian authorities.

"We have taken up the matter with the Indian authorities to clarify the discrepancy," Advisor to Prime Minister on Foreign Affairs and Security Sartaj Aziz told the National Assembly on Friday in reply to a question by one of the members.

Aziz said the Indian authorities handed over a list of 386 prisoners detained in jails to Pakistani High Commission in New Delhi on July 1, 2013. According to the list, there were 108 fishermen and 278 other Pakistani civilians locked up in Indian jails.




However, according to the record maintained by the Foreign Office and the Pakistani High Commission there were at least 485 Pakistanis jailed in India. These included 172 fishermen and 313 other civilians, Aziz said. The list is based on the information received from the media, NGOs and applications from the relatives of the prisoners.

He told the house that Pakistan and India have an agreement on consular access to prisoners signed on May 21, 2008. Under the agreement, the two countries have to exchange lists of prisoners held on both sides on January 1 and July 1 every year.

"Under the agreement both governments are required to release or repatriate prisoners within one month of confirmation of their national status and completion of sentences," said the minister.




Indians held in Pakistan

Aziz said that according to the list provided by Pakistani authorities to the Indian High Commission in Islamabad 491 Indian prisoners, including 437 fishermen and 54 other civilians were detained in Pakistan. Nine of them were already released while there was a proposal to release another 73 Indian fishermen.

"However, Indian side has not released any Pakistani prisoner not even those 31 civil prisoners who have completed their sentence and their national status was confirmed," the minister told the house.

He informed the legislators that Pakistan released 45 Indian fishermen on May 25, 2013, one fisherman on June 17, 2013 and seven civil Indian prisoners on July 9, 2013. However, one Indian fisherman died on July 3 2013, he added.

12 ex-generals now diplomats

Aziz informed the House that among 26 non-career ambassadors and high commissioners abroad, 12 were ex-generals. Replying to a question by MNA Shaista Pervaiz, the foreign minister told the house that there were 29 non-career diplomats serving in Pakistani missions abroad, 26 of them were ambassadors.

The retired military generals were posted as ambassadors in countries such as Mexico, Amman, Brunei-Darussalam, Mauritius, Iran, Nigeria and others. Aziz told the House that during the last five years three ambassadors got two continuous postings in Europe. They included Shafqat Saeed who was posted from Brussels to Paris where he served for over three years.

Humaira Hassan was posted from Madrid to Lisbon where she was still serving and Rab Nawaz Khan was posted from Oslo to Bucharest where he was still serving.

Published in The Express Tribune, August 17th, 2013.