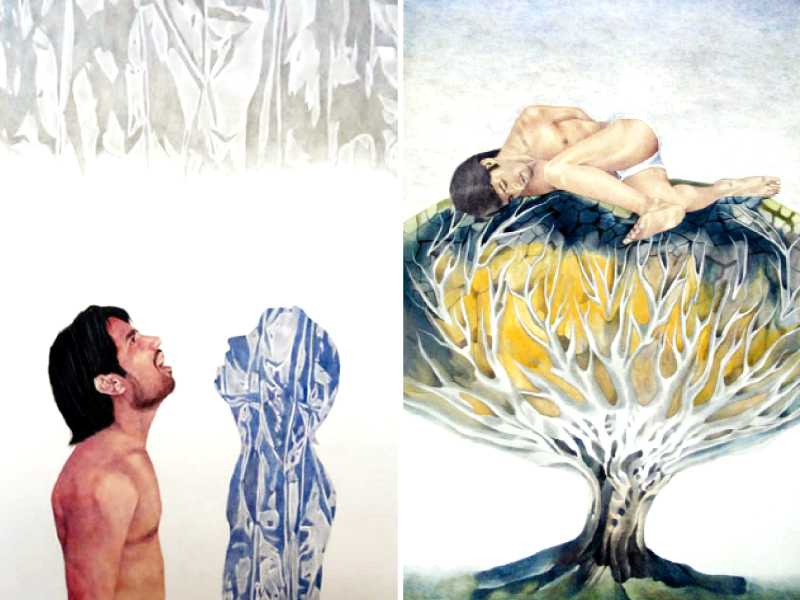 ---
LAHORE:



Shamsuddin Tanviri's art exhibition, honouring the sacrifice and services of late governor Salmaan Taseer, opened at the Taseer Art Gallery, in Lahore Cantt, on Tuesday. It will continue till August 18.




As many as 15 art pieces, mostly self-portraits in gouache on wasli were displayed.

Tanviri told The Express Tribune that his work portrayed the hardship and frustration he had faced in his life. "It also depicts the aggravation and disappointment of losing many opportunities due to a lack of resources in the underdeveloped village I come from and the backward mindset of people there," he said.

Tanviri's work explores themes of angst and repression, curator Sanam Taseer said. "He has a recurring design using layers and layers of plastic that is suffocating and suggests an enforced separation from the outside world," she said, "Tanviri's humble beginnings has allowed these themes to burst free through his art."




Artist Bilal Ashraf Butt said that Tanviri's work questioned the traditional form of self-portraiture. "The use of plastic around his body in one of his pieces portrays inner suffocation that he might have failed to express verbally," he said.

Tanviri's art is thought provoking, fashion designer Kamiar Rokni said. "They make one question their own existence," he said.

Painter Fakeha Mubarak said, "Tanviri's brush strokes are bold and quite mature... That sets him apart from his contemporaries."

Published in The Express Tribune, August 15th, 2013.