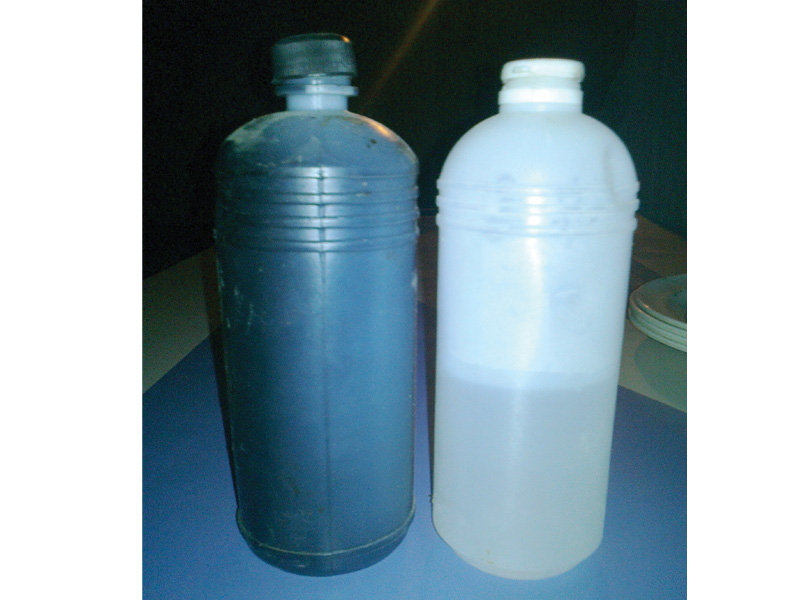 ---
KARACHI:



Lethal moonshine on Monday claimed two more lives in Karachi, raising the toll from the consumption of toxic liquor to 12 since the third day of Eid.




At least 12 people, all of them belonging to the Christian community, reportedly died in Azam Basti neighbourhood of Mehmoodabad where a large quantity of toxic liquor was sold from a house, claimed the police.

Independent sources, however, claimed the toll is as high as 20 on the basis of statements of the bereaved families. According to unconfirmed reports, two traffic police sub-inspectors, Ghazi Ghulam Abbas and Zia Mughal, were also among the moonshine victims.

The Karachi South Deputy Inspector General (DIG) Ameer Ahmed Sheikh, however, refused to accept the claims. "Only two more people lost their lives on Monday, raising the total number of deaths to 12 in the South district," he said.




Meanwhile, the police have formed a committee, headed by District South Superintendent Police (SP) Investigations Faizullah Korejo, to probe into the incident. The committee will submit its report after recording statements of the survivors.

Arrests and investigation

Ghulam Ali, an officer on duty at the Mehmoodabad police station told The Express Tribune that the police had arrested two suspects, identified as Jamil Rafiq and Babar Siddique, involved in the preparation of the toxic liquor, which was sold with counterfeit labels.

Another suspect, Dibar Hussain alias Dilawar, who the police believed to be the ring leader, was still at large.

On the complaint of one of the victims' relatives, Younus Barkat, the police had registered an FIR 207/13 under sections 302 (premeditated murder), 322 (manslaughter), 337 (bodily hurts) and 34 (common intention) of the Pakistan Penal Code.




During the course of investigation, the police had also recovered 10 empty wine bottles and 18 bottles filled with raw liquor on the indication of the suspects.

Following the recovery, the Mehmoodabad police, on behalf of the state, had registered another case (209/13) under section 3/4 of the Control of Narcotics Substance Act, 1997 against the suspects.

During the past years, several deaths from the consumption of toxic liquor were reported from the minority-dominated Zaman Town and Shanti Nagar areas of the district.

Published in The Express Tribune, August 13th, 2013.
COMMENTS
Comments are moderated and generally will be posted if they are on-topic and not abusive.
For more information, please see our Comments FAQ