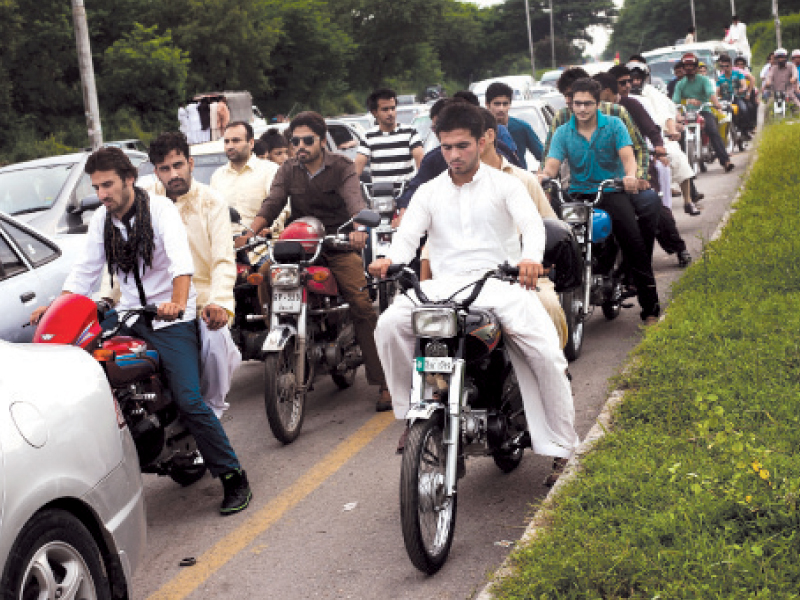 ---
ISLAMABAD:



During public holidays, commuters using the stretch of Murree Road leading to-and-from Azad Jammu and Kashmir as part of their routine lives get caught up for hours in a massive gridlock due to picnickers visiting Lake View Park, Chattar Park, Murree and other hill stations.




The traffic jam, particularly on public holidays, disrupts the lives of the people residing in rural areas along Murree Road such as Bhara Kahu, Bani Gala and Malpur and forces some residents to stay at home, whether they can afford to or not. The traffic jams usually extend from Lake View Park till the U-turn near Athal Chowk, Bhara Kahu.

"The road remains jam-packed during the holidays. We're unable to go anywhere to enjoy our holidays and even relatives avoid coming to our place," said Muhammad Aslam, a resident of PTV Colony in Bhara Kahu who has been living there for the past 10 years. There is an alternative route from Sehri Chowk which leads to Chak Shahzad, but one cannot use it at night, especially with family, because it is desolate, he said.




Similarly on the second and third day of Eid, it took commuters two to three hours just to reach Club Road from Athal Chowk, a six kilometre stretch which would usually take under 10 minutes to cover.

An ambulance carrying Asim, who had suffered heart attack, was trying to negotiate its way out of the traffic. "My father is seriously ill and he should be in hospital within the next five minutes, but no one is cooperating," said Saadullah, 13, Asim's son, who came out from the ambulance to request commuters to clear the way so that he could take his father to Polyclinic hospital.

Four exhausted traffic police officials standing at the entrance of Lake View Park were trying their best to control the traffic, but their efforts went in vain.

Vehicles were seen parked on Murree Road and on green belts, which further contributed to the traffic jam. "It's terrible, there is no place to park my car and search for some water," said Mohammad Shafiq who was coming from Nathia Gali along with his family.

Meanwhile talking to The Express Tribune, Islamabad Deputy Commissioner Amir Ali Ahmed and SSP Traffic Dr Moeen Masood said the Ministry of Interior in collaboration with Islamabad Capital Territory and Capital Development Authority is planning to build a flyover at Athal Chowk and an underpass at Lake View Park.

"There is a need to work out a permanent solution to avert traffic jams on Murree Road," said the officer. He was of the view that the U-turns at Malpur and Jugi Chowk, Bhara Kahu worsen the traffic.

Published in The Express Tribune, August 13th, 2013.