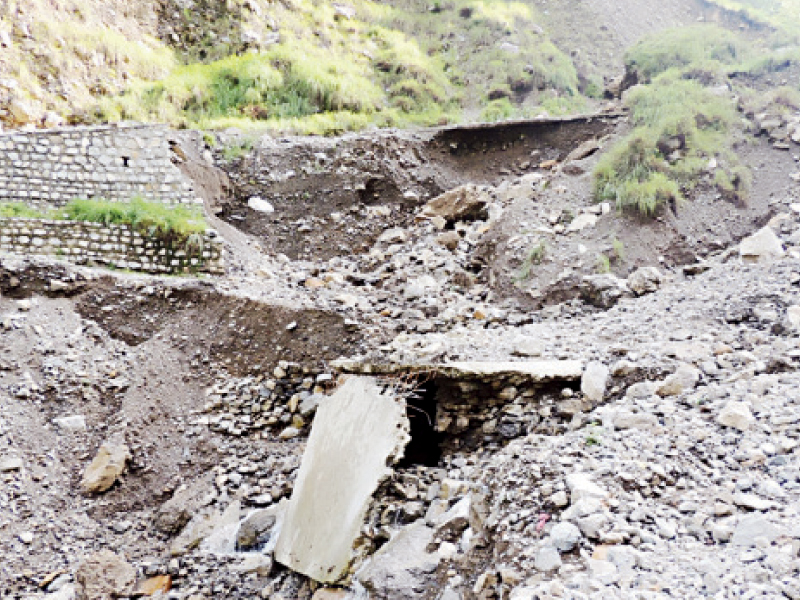 ---
PESHAWAR:



The district administration of Peshawar issued flood warnings on Monday, instructing residents to stay away from streams and rivers citing predictions of flash floods and heavy rainfall. 




The Meteorological Office has forecast heavy rains in Peshawar, Mardan and Malakand on Tuesday and Wednesday.

"All rescue departments have been put on high alert in order to respond immediately during any flooding," said Peshawar Deputy Commissioner (DC) Zaheerul Islam while addressing the media. "Budhni stream could flood, which is why people living close to the stream as well residents of Shah Alam, Bakhshi Pul and Nasir Bagh have been advised to take precautionary measures," added the DC. According to the Provincial Disaster Management Authority, flash floods and heavy rainfall are expected in the districts of Peshawar, Mardan, Nowshera, Malakand and Hazara in the coming days. However, the authority in a press release maintained all rivers in the province are flowing at their normal level.




The provincial irrigation department has also issued a warning, advising people living alongside rivers and streams to take necessary precautions. In addition, the department has cancelled vacations of relevant staffers and officers, directing them to stay alert ahead of the predicted flash floods.

As many as 19 people died across the country in the first week of August, while nearly 50 people were injured due to monsoon rains and flash flooding. Heavy rains in suburban areas of Peshawar also created a flood-like situation particularly near Budhni stream, Samar Bagh, Bakhshi Pul and Hayatabad. Moreover, rainwater inundated residential areas, forcing locals to vacate their houses.




Haripur

Intermittent torrential rains in Haripur and upper Hazara during the past two weeks have flooded streams and Daur River, resulting in extensive damage to standing crops and a bridge in the region.

Daur River overflowed its banks and swamped acres of farmland in Kholiyan Bala, Shah Maqsood, Sera-e-Saleh, Ali Khan, Mankraye and Sikandarpur union councils. The spell of rains also destroyed part of a bridge connecting Akhoon Bandi village with GT Road, leaving over 10,000 villagers stranded.

Published in The Express Tribune, August 13th, 2013.
COMMENTS
Comments are moderated and generally will be posted if they are on-topic and not abusive.
For more information, please see our Comments FAQ