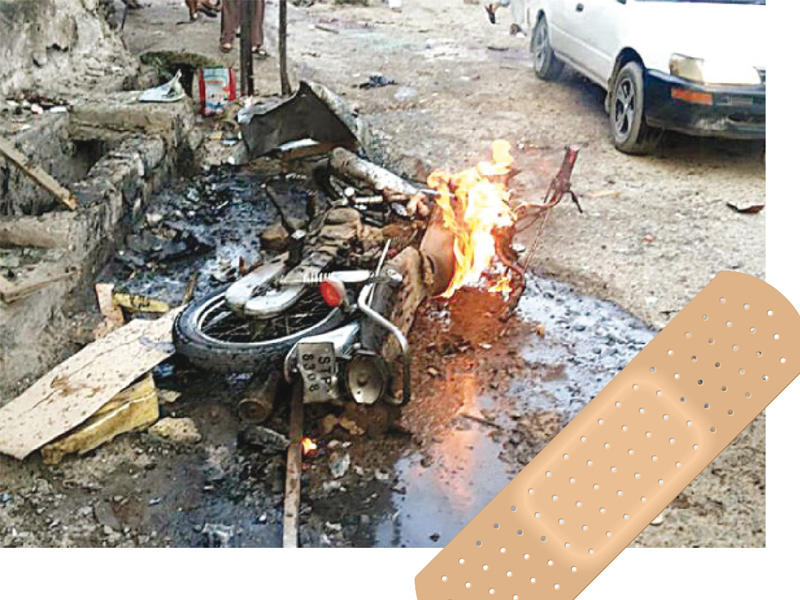 ---
PESHAWAR: Sajad Hussain is young, but he has seen a lot. He knows the value of his work, he knows his worth. Although the teenaged owner of the only major salon in Parachinar City – Hussaini Saloon – who was one of the many people seriously injured in the twin suicide explosions that rocked the area on July 26, and is still admitted at the Lady Reading Hospital Peshawar, he has not stopped dreaming of returning to work.

"I have never loved my profession more," he says, with a glint in his eye. "I have truly realised its importance in this hospital bed."

The ill-fated day

The deadly blasts in Parachinar's bustling market killed 60 Shia tribesmen and injured around 180 people. Out of these, 27 of the ones in critical condition were taken to LRH, and Sajad was one of them. Sajad still trembles slightly as he recalls the day. "I stepped out my shop when I heard the first blast," he relates.

"Then, another explosion occurred and fire leapt towards me while I was lying on the road in front of my shop. My shop turned to rubble."

Bandaged and loved

Today, Sajad is recuperating in the surgical-A male ward, which is guarded by two police officials. Most of his body is covered in a plaster, and yet he continues to smile.

"I thought no one except my family would bother to check up on me after I was rushed here," he says. "I was totally wrong! I get 10 to 15 calls daily not from relatives and villagers, but my customers, who want to inquire after my health." The care he is showered with is not unfounded.

Sajad is a man sure in his craft. "I am the only hair dresser in Parachinar who can cut and make beards according to the latest trends," he claims confidently.

"I introduced the scissored and spiked haircuts to the teenagers, the French beard among the married men, and the soldier cuts for the middle aged.

I do my work based on the needs and demands of my customers." According to Sajad, the number of customer calls keeps rising. He feels clumsy in the hospital bed.

All he wants to do is grab his scissors and comb, and get to work again. "With all the love from my customers, and the respect being shown to my profession, I feel like the luckiest patient in the world," he says, smiling.

Published in The Express Tribune, August 12th, 2013.
COMMENTS
Comments are moderated and generally will be posted if they are on-topic and not abusive.
For more information, please see our Comments FAQ