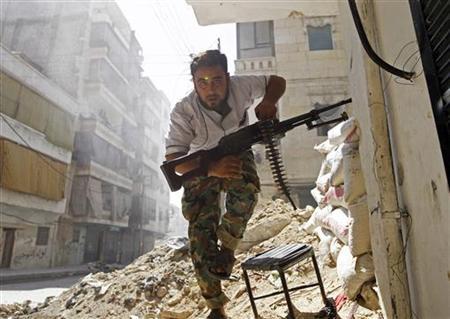 ---
BEIRUT: The head of the rebel Free Syrian Army has visited the coastal province of Latakia, according to video footage, a show of force in President Bashar al-Assad's family's home province.     

Several villages in Latakia, which is a stronghold of Assad's Alawite sect, have been overrun by Sunni Muslim insurgents over the past few days.

General Salim Idriss, who leads the rebel Supreme Military Council, was shown in a video uploaded to the Internet on Sunday wearing a casual dress and a shoulder-strapped gun holster and standing outside with mountains in the distance.

Speaking to rebels, he said he was in Latakia to see the "important successes and victories that our revolutionaries have gained on the coastal front".

Reuters cannot independently verify reports due to severe security and reporting restrictions.

Idriss' forces are backed by the West, but the Latakia offensive is being led by two al Qaeda-linked groups who have killed hundreds of people this month and driven hundreds more to seek refuge on the Mediterranean coast.

Underfunded and fragmented, Idriss' men have been overshadowed by these hardline groups and some more moderate rebel leaders have been killed in power struggles with al Qaeda affiliates that include foreign fighters.

One group, the Islamic State of Iraq and the Levant, issued a statement on Sunday saying its militants were now "a stone's throw from Qurdaha", the Assad family's hometown. It said the militants had fired rockets into the town.

The rebel advance into Alawite territory is a major gain for Assad's foes after months of setbacks during which they lost ground around the capital Damascus and the central city of Homs.

Combined with a steady fight back in the southern province of Deraa, it highlights the challenge Assad faces in trying to restore his authority across Syria after two years of conflict that has killed 100,000 people and fragmented the country.

Assad controls much of southern and central Syria, while rebels hold northern areas near the Turkish border and along the Euphrates valley towards Iraq. The northeast corner is now an increasingly autonomous Kurdish region.
COMMENTS
Comments are moderated and generally will be posted if they are on-topic and not abusive.
For more information, please see our Comments FAQ