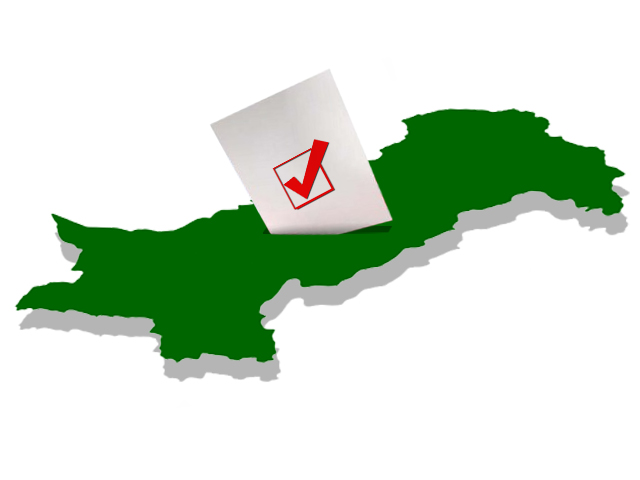 ---
PESHAWAR: A s election fever grips NA-13 once again, the political arena is wrought with meetings, seat adjustments talks and placating disgruntled supporters.

Currently, two parties have launched campaigns in Swabi to win NA-13 in the August 22 by-elections. The Jamiat Ulema-e-Islam-Fazl (JUI-F) candidate Maulana Attaul Haq Darvesh, will be contesting against Pakistan Tehreek-e-Insaf (PTI) candidate Aqibullah, who is the brother of Khyber-Pakhtunkhwa (K-P) Assembly Speaker Asad Qaiser.




Before the May 2013 elections, Swabi was considered to be a stronghold of nationalist parties. However, the election turned the tables when the PTI grabbed the most number of votes, especially from the youth, who had earlier been ignored by religious and political parties.

Qaiser, who is also PTI provincial president in K-P, won both NA-13 and PK-35.  He gave up his NA seat in favour of serving in the provincial assembly.

Alliances rise

Last week, the situation took a new turn when Prime Minister Mian Nawaz Sharif announced he would not give tickets to Pakistan Muslim League-Nawaz (PML-N) candidates in constituencies where the JUI-F was contesting.




The PML-N then refused to give a ticket to their popular candidate, Haji Sajjad Khan. Consequently, the PML-N's vote bank has shifted in favour of the JUI-F, as supporters of the latter do not want to elect a PTI candidate.

Before Sharif's decision, PML-N Central Vice President Amir Muqam visited Swabi and met Jamiat Ulema-e-Islam-Nazryati candidate Maulana Khalil Ahmad Mukhlis, Pakistan Peoples Party (PPP) candidate Asad Zaman Sher and Awami Jamhoori Ittehad Pakistan (AJIP) candidate Haji Noorul Hassan to convince them to support the PML-N's candidate in the by-polls. However, after JUI-F chief Maulana Fazlur Rahman reached an agreement with Sharif, the opportunity was snatched from Sajjad.

Talking to The Express Tribune, Sajjad said he knew he would not be awarded a ticket. He explained Muqam had in fact visited the constituency to speak to voters about some future plans. Sajjad added Muqam had also visited Jamiat Ishaat-e-Tauheed Wa Sunnah (JITS) chief Maulana Tayyab, who announced his support for the PML-N in the centre.

"Politics in the district cannot be disassociated from religion," claimed Tayyab, adding he had promised Muqam to support the party which would enforce Shariah in Pakistan. "I am not biased against the PTI, but they have a long way to go as far as politics is concerned."




Meanwhile, on July 31, an important meeting was held between the district leaderships of the JUI-F and Awami National Party (ANP) to chalk out an election plan for NA-13. It was decided that ANP supporters would vote for the JUI-F in the by-polls. JUI-F District Secretary General Haji Hidayatullah called another meeting for this purpose on August 4 and finalised their decision to campaign together.

Maulana Darvesh said he appreciated the ANP's support and maintained cooperation is needed to protect the integrity of the country. "This is not  merely an electoral alliance. We are aiming for the prosperity of the country."

Additionally, former ANP MNA Parvaiz Khan said the alliance would have far reaching positive effects in the region.

Though the AJIP had earlier decided to support the PML-N, AJIP chairman Shahram Khan Tarakai was convinced to support the PTI on NA-13 after a meeting with Asad Qaiser.

Partnership on the rocks

Supporters of the PTI have launched a campaign along with their political partners in an attempt to help Aqibullah succeed on the PTI ticket. However, the Jamaat-e-Islami's (JI) Swabi chapter rejected the alliance in NA-13 when it could not be decided who will be given the position of the Zakat chairman.

JI Swabi chief Saeedzada Yousafzai said an alliance on NA-13 was impossible until the dispute was resolved. He added the JI would not let its workers sacrifice to this extent although they had joined hands with the PTI "for the good of the country".




However, a meeting chaired by Chief Minister Pervez Khattak and attended by JI senior leader Sirajul Haq, Qaumi Watan Party Provincial President Sikandar Hayat Sherpao and AJIP chairman Shahram Khan decided to go ahead with the seat adjustment deal in the province.

The Zakat chairman's position was earlier handed over by the PTI to their local leader, Amjad Ali Shah Bacha. Following this, the JI demanded the post be given to them and claimed they would support the PTI on NA-13 in return.

Bacha said although they support the PTI, there is no surety that the JI district chapter would vote for the PTI's NA-13 candidate. "You cannot force anyone to vote for a specific candidate" he added.

Internal rifts and facing the opposition

Though the situation seems clear for the PTI candidate, rifts surfaced in the party's Swabi chapter when Qaiser allotted the ticket to his brother.  "Qaiser and his allies are trying to hijack the party and restrict it to their families. No one has seen Aqibullah at a single party meeting," said a PTI leader.

Another PTI senior leader from Swabi said they were told by the speaker and other provincial leadership officials to leave the party if they could not accept Aqibullah as a candidate. "We tried to inform Imran Khan of the issue but he is busy dealing with federal issues. Dominant forces in the party have taken everything."

He further said the decision of giving a party ticket was taken entirely by Qaiser and his allies, adding the election would prove the PTI had been hijacked by some families in K-P.

On the other hand, the ANP Swabi chapter is clueless and leaderless with no specific future plans, which is why they decided to support the PML-N and then JUI-F.  The only candidate who can give the PTI a run for its money is the JUI-F candidate.

Darvesh also alleged Qaiser visited Swabi daily to announce multiple development projects.  He added Qaiser announced to set up a medical college and increase funds for Topi, Shah Mansoor and Marghuz hospitals. Despite a ban on development projects, Qaiser visited Gadoon and directed the Peshawar Electric Supply Company to install electricity transformers in areas where people have power outages and low voltage problems, he added. "He is hijacking our election campaign by launching and distributing money in the constituency to assure his brother succeeds," said Darvesh. "This may be change but people do not want corrupt change."

Darvesh also maintained the speaker of the assembly was required to be impartial, adding no one in the constituency was speaking up against him. "People do not even know Aqibullah and his entire campaign is being run by his brother."

Saeedzada said Aqibullah was not popular among the people, while leaders who had strived for the party ticket were well-known political figures who deserved the seat more than the current candidate.

Counts of nepotism

It was revealed that Qaiser visited Gadoon last Monday and met workers to convince them to vote for his brother. Qaiser also convinced PTI Swabi chapter leaders Rangez Ahmad, Sohail Yousafzai and Sher Aman Khan, who were looking to break ranks, to stay on and support Aqibullah.

Disgruntled supporters claim Qaiser put forward his brother's name because the PTI chairman was not concerned about who was going to contest the election in NA-13. They went a step further and said Imran was only interested in winning the seat and did not care who the candidate was for the job.

Meanwhile, Aqibullah said he himself had paid Rs0.7 million to repair a damaged transformer in the area. He claimed he had never used the PTI's flag while working on developmental projects and explained all development work had been done for the sake of the people, not party workers. "Why don't they let the provincial government do something for the people of Swabi?" he questioned.

Defending his move, he claimed he had always participated in local politics even though he had stayed away from mainstream politics. "I have supported the PTI since 1997," asserted Aqibullah, adding no one had ever been awarded a party ticket for doing nothing.  "The central leadership is mature enough to decide which candidate is the most suitable and they have selected me to contest elections with the consensus of the PTI Swabi chapter's leadership."

Around 10 candidates will contest the by-polls from NA-13.  JUI-F candidate Attaul Haq Darvesh, PTI candidate Aqibullah, Tehreek-e-Tahafuz-e-Pakistan candidate Khalid Mehmood and Jannat Party candidate Ourang Sher. Independent candidates are Muhammad Ayaz, Shamsul Qamar, Ishaq Ahmad, Muhammad Kalim, Umer Gul and Attaullah Shah.

Published in The Express Tribune, August 12th, 2013.
COMMENTS (3)
Comments are moderated and generally will be posted if they are on-topic and not abusive.
For more information, please see our Comments FAQ