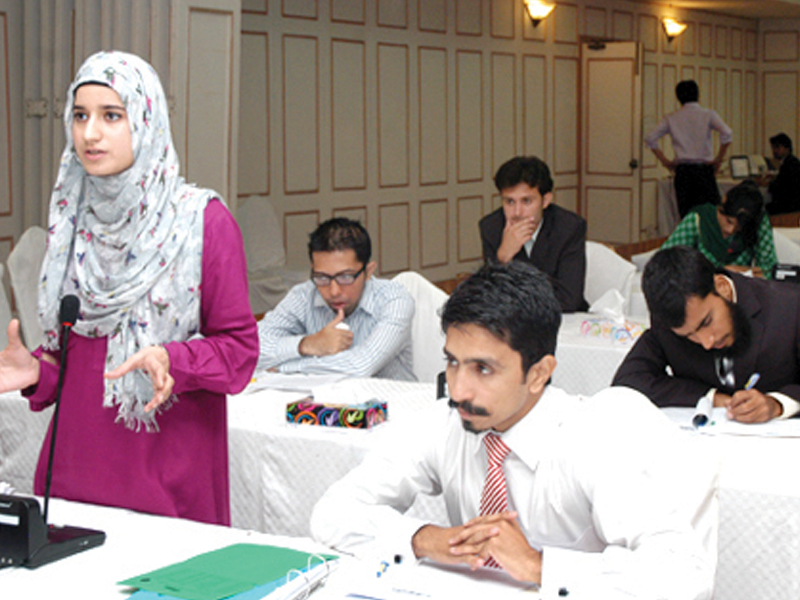 ---
KARACHI: In a bid to improve relations between the two historic archrivals - India and Pakistan, young parliamentarians from across the country have stressed the need to apply the European integration model to the South Asian Association for Regional Cooperation (Saarc) countries.

"Pakistan and India are two of the most prominent members of Saarc. Mutual agreements of cooperation between the two countries, the way France and Germany achieved post World War-II, will help reduce their security, financial and socio-economic problems by half," argued Sitwat Waqar, the shadow minister for foreign affairs and defence, in a policy paper, titled 'Improving Indo-Pak Diplomacy'.

Under the platform of Youth Parliament Pakistan, Waqar prepared the paper in collaboration with leader of the opposition, Kashif Ali, and the chairperson of standing committee on information, Momna Naeem.




This pioneering project was launched by the Pakistan Institute of Legislative Development and Transparency  in the year 2007 with the aim to engage Pakistani youth in a healthy discourse to expose them to the democratic process and practices.

"If the two countries used this forum for increased economic and cultural integration, coupled with discussions on pertinent issues of multilateral importance with all members of Saarc, then South Asia would not be dependent on other countries outside the region," said Waqar.

In the policy paper, the parliamentarian argued that trade was one of the key aspects as it could play a significant role in reducing tensions between the two nuclear-armed neighbours. The geographical proximity of the two countries makes them natural trade and investment partners. The parliamentarian, however, appeared cautious in seeking a balance in bilateral trade cooperation between the two countries.

The report also emphasised the need for building people-to-people contacts through relaxed visa policy. "The visa liberalisation policy is ideal as it could benefit both countries in a multitude of ways, which include instilling of peace sentiments, which would contribute greatly to the resolution of conflicts between the two countries," it stated. "Today it is easy for the citizens of both the countries to visit Western countries, but very difficult for Pakistanis to visit India and vice versa."

The youth parliamentarian foresaw Indo-Pak cooperation indispensable for the stability of not only Afghanistan but the entire region.

"The best way for India and Pakistan to move ahead is to ignore the perceived rivalry of the past over Afghanistan and be open to each other over their role in Afghanistan," said Naeem. "It is the need of hour for both countries to disengage from past narratives and reconnect effectively as neither of the two could prosper without peace."

Published in The Express Tribune, August 12th, 2013.
COMMENTS (1)
Comments are moderated and generally will be posted if they are on-topic and not abusive.
For more information, please see our Comments FAQ