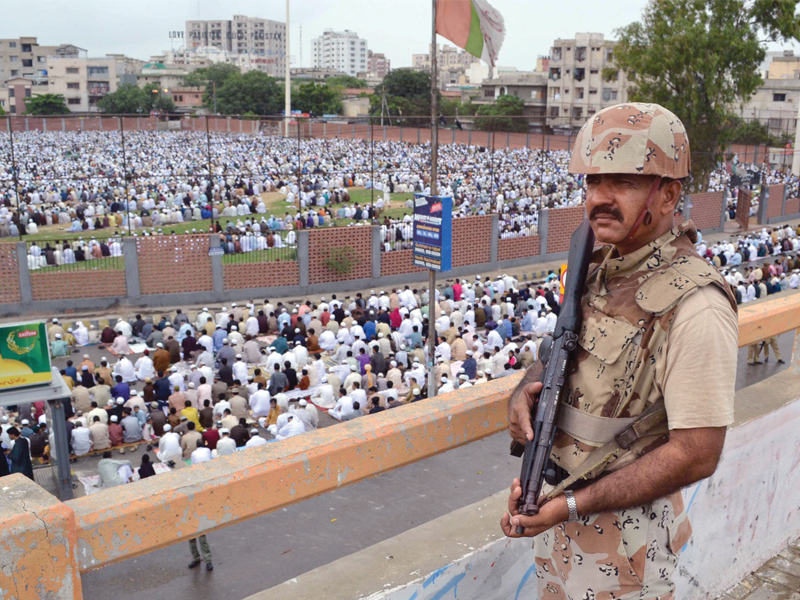 ---
KARACHI:



As Eidul Fitr came to an end on Sunday, police reported that at least 22 people, including three policemen and two political workers, were killed in separate acts of violence in Karachi over the three days.




When asked about the spree of killings, Karachi Police Chief Ghulam Qadir Thebo said that the overall security arrangements were to stop terrorism activities and give Karachi'ites a chance to celebrate eid in peace. "But these killings which took place over the three days were mostly of a personal nature and not sectarian or of terrorist nature," he said. "Some police officials were also targeted, mainly because of their active role in catching criminals and militants."




On Sunday, a police constable, Sher Haider, 35, was gunned down and the son of police inspector ASI Shabbir, Irfan, was wounded by armed men in Baldia Town. Police officials said that the victims, who were residents of the same area, were having tea at a nearby shop when two armed men targeted them.

Similarly, Razzak, 30, was shot dead by armed men at a teashop near his home in Qasba Morr, Orangi Town. Police officials said that the deceased hailed from Bajaur Agency and suspected he was killed over personal enmity.

Sana, 17, was gunned down near the Garden Traffic Signal while she was travelling in a rickshaw. Police officials said that deceased lived in Ranchore Lane. The motive behind the incident has yet to be ascertained.

An unidentified young man was found dead near Ibrahim Ali Bhai School in Orangi Town. According to initial investigation, the victim was tortured after being kidnapped.

Another young man was shot dead by unidentified armed men near Truck Stand in Mauripur.

Ameer Ali, 28, was gunned down by at least two armed men riding a motorcycle when he was having lunch at a hotel within the remits of the Soldier Bazaar police station. Following the incident, victim's relatives and neighbours staged a protest against the incident and demanded the arrest of the culprits.

Uzma, 15, daughter of Shaukat Ali Baloch, was shot dead inside her house in Chanesar Goth. According to police officials, the initial investigation suggested that the victim was shot by mistake.

First two days of Eid

On Friday, two local leaders of the Awami National Party, Imran and Saeed, were gunned down near Bilal Masjid in Orangi Town.

A poultry shop owner, Mansoor Ahmed, 38, was gunned down by armed men near Ziauddin Hospital Chowrangi.

Ismail Hussain, 32 was killed and another, Mehmood, 28, was wounded inside a barber shop in Machli Market in Orangi Town. Police officials said that victims were at a barber shop when a man, Shan, opened fire. A case has been registered against the accused.

A man was killed and three others were injured by armed men near Juna Masjid in Lyari. Police officials said that the deceased and injured persons belonged to the Kutchi community.

Two friends were shot dead in Malir City area.

Saturday saw no respite from the violence that started on the first day of Eid. A retired police's sub-inspector, 60-year-old Councilor Khan, son of Paidar Khan was killed and his son, Umair, 13, was injured on Saturday. The deceased had retired from the police department about three months ago.

A police constable, Nizam, 45, was shot dead in Rizvi police precincts.

The bodies of a man, his wife and a son were found from within the Kharadar police remits. Victims, residents of Lyari's Baghdadi area, were identified as Mehmood Baloch, 40, Noor Jahan, 35 and their son Isran. SHO Azam Khan said that deceased Mehmood was the father-in-law of Lyari's notorious gangster, Jabbar Jhengu and initial investigation suggested that they were killed by Jhengu over a monetary dispute.

A young man was found dead from Safoora Goth while a teenager Gul Rehman was allegedly killed by his neighbours, Ali Mohammad and Aziz, in Hassan Noman Colony in Sohrab Goth. Qasim, 22, who hailed from Bajaur Agency, was shot dead by armed men near Askari Park.

Published in The Express Tribune, August 12th, 2013.
COMMENTS
Comments are moderated and generally will be posted if they are on-topic and not abusive.
For more information, please see our Comments FAQ