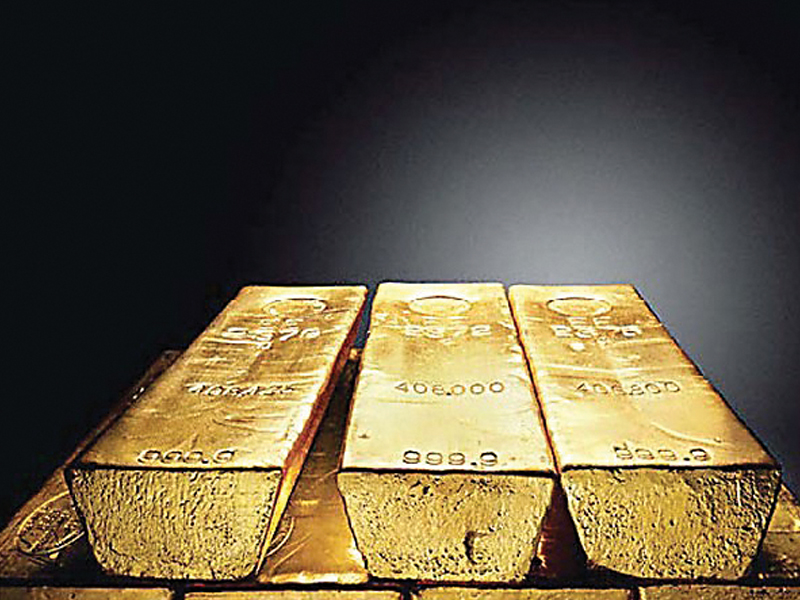 ---
KARACHI:



There is going to be minimal downside to gold trading, as the fall of its prices is expected to be over by September, according to Acting Managing Director of Pakistan Mercantile Exchange (PMEX) Amjad Khan.




"Gold will be a very good trade by the end of 2013, as the current spell of declining gold prices is likely to end quite soon," Khan said while speaking to The Express Tribune in a recent interview.

Gold is considered to be a mirror image of the dollar, which means its value declines if the dollar gains strength. With the indication from the US Federal Reserve that it is now going to print less money, dollar interest rates have gone up globally. This has resulted in disinvestments from gold, reducing the price of the precious metal internationally.

In the domestic market, the price of 10 grams of gold has declined 14.5% since January.

Established in 2007 as a demutualised exchange, PMEX's trade volumes have soared in the couple of years. However, institutional participation in the commodities trading remains minimal, says Khan.

"About 99% of our clients are retail investors. They are individuals who operate mostly through PMEX-registered brokers," he said while referring to 199 brokers who actively took part in daily trade during fiscal year 2012-13. Saying that the institutional participation is currently low, Khan adds that the PMEX now expects institutions to invest aggressively in the near future in view of the changed regulatory environment.

The Securities and Exchange Commission of Pakistan (SECP) allowed asset management companies (AMCs) to launch commodities-based mutual funds in 2012. Until now, only a couple of mutual funds in the commodities category have become operational. But at least five top AMCs have already sought the regulatory authority's approval to set up gold funds, Khan says.

"Institutional participation will greatly increase once these mutual funds become operational. Currently, only 100-odd institutions are active on the PMEX," he said.

Daily trading volume on the PMEX is roughly Rs4 billion. Out of the total volume, between 70% and 80% is based on gold while the rest is composed of crude oil and silver contracts.

Claiming that the annualised growth rate in gold prices has traditionally been higher than the average KSE-100 Index returns, Khan said the last fiscal year was an exception. "Gold has gone down this year while the KSE-100 Index did much better. While the global downturn in gold prices played its role, the reason for the relatively low volumes on the PMEX was the fact that unlike the stock market, black money is not allowed here."

The total volume of trade on the PMEX in fiscal 2013 was Rs1.2 trillion, up 32.9% from fiscal 2012 when the volume remained Rs0.91 trillion. The PMEX also posted an increase in business in terms of the number of contracts traded: 4.3 million contracts were traded in fiscal 2013 as opposed to 3.6 million in the preceding year, showing a rise of 19.4%.

Khan says approximately 200 new clients are added every month. Out of the total of around 8,000 trading accounts, roughly 2,000 accounts are generally active during a typical month. On a daily basis, around 500 clients, who are overwhelmingly individuals, actively participate in commodities trading.

"A lot of these individual clients purchase gold and leave it in our vaults. Our vaults are insured and audited regularly. You don't have to carry gold anywhere. You don't have to deal in cash. The quality and price of our gold are in strict accordance with the international market," Khan said, urging people to save and invest in gold through the exchange without exposing themselves to theft, fraud or quality risks that are generally associated with the sale and purchase of the precious metal.

Published in The Express Tribune, August 9th, 2013.

Like Business on Facebook, follow @TribuneBiz on Twitter to stay informed and join in the conversation.