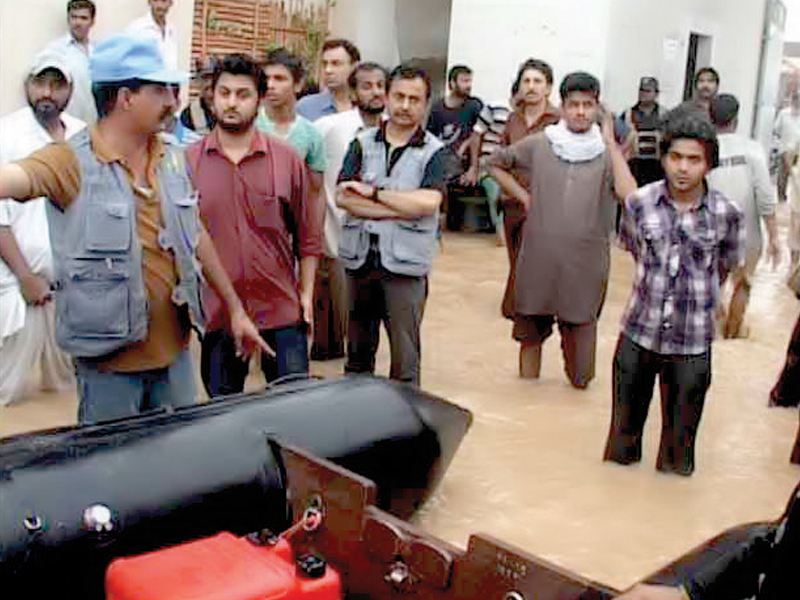 ---
KARACHI: The generosity of their spirit came to the fore when some teenagers instead of preparing for Eid were seen collecting donations at major shopping malls for slum-dwellers whose houses were washed away by the recent torrential rains.

Fifteen-year-old Aisha Haleem and her friends were out on Wednesday night asking for funds to rehabilitate the victims of the monsoon rains. Belonging to the Pakistan Relief Foundation (PRF) - an NGO launched this June, they call themselves young saviours.

As people thronged shops in the brightly-lit Zamzama area for Eid shopping, a student, Anas Kamal, was seen carrying a large box of donations. "Please give anything you can. Those rendered homeless by the flood need us."




Many boys like him have not bought their Eid kurta, as they have other things on mind - reaching out to the rain-affected people.

Haleem said that they had managed to collect Rs1,83,000 by campaigning for a couple of hours in Zamzama, Forum, Gulf shopping centres and other markets.

"After the rains, we visited Mithu Goth - a slum comprising fifty homes, where floodwater had caused massive damage. We cried after finding out that so many houses had collapsed, and the people had nothing to eat or drink. We felt like we had to do something and decided to collect donations," she said.

Haleem, a student at Nixor College, said that when they went to the slum, they donated ration, tents and water to the affected people out of their own pockets. With the money collected as donations, they intend to go to other areas to help out more people in this difficult time. "Many people only think about themselves. It is only when we visit such areas and see the miserable state of people that we come to realise their hopeless situation."

The young saviours include students between ages of ten and 15.

PRF executive-director Sabreena Hena Iqbal said that many Goths such as Ali Gabol Goth and other slums have been affected by the floods, but sadly political parties, Army or the government have not come to their rescue.

"Schools and houses have collapsed but everyone is indifferent to their plight. We went to one slum where the people told us that the parliamentarian of that area had come and offered them only dates for iftar," Iqbal said.  She reiterated her determination to continue to seek funds for those in need.

Published in The Express Tribune, August 9th, 2013.
COMMENTS (1)
Comments are moderated and generally will be posted if they are on-topic and not abusive.
For more information, please see our Comments FAQ