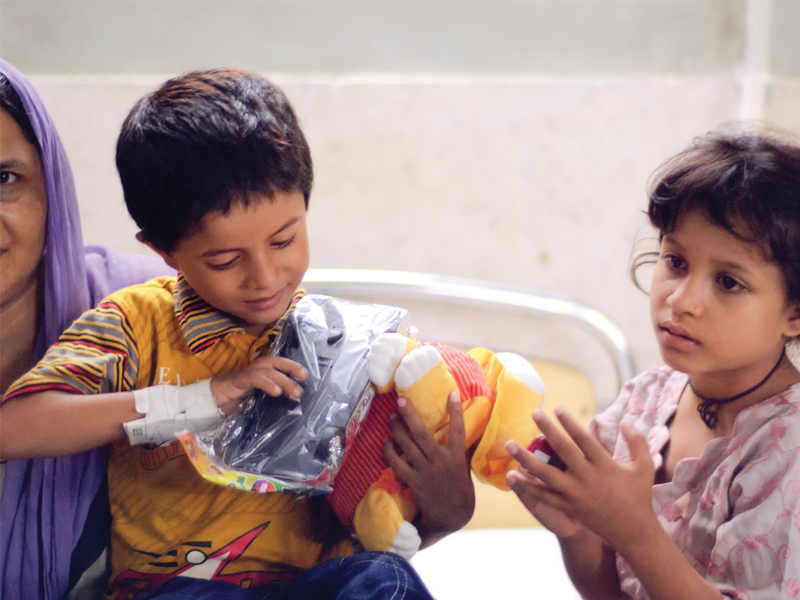 ---
KARACHI:



It can be hard to justify a charity which gives out toys instead of food, clothes or shelter to people in need, but as the call for the Ramadan Toy Drive went viral on Twitter, Facebook and other personal networks, it started making perfect sense - collecting and buying toys for sick children in hospitals was an outreach of joy.




Zairah Maher, a teacher, is a young mother of three boys. Every year her children would collect toys which they had outgrown and give them to other little ones who were less fortunate. Over in Lahore, for the past three years, her school friend Fatima Khan had been doing the same, but as a more structured initiative called the Ramadan Toy Drive. As the name suggests, the drive started with a call for toys which would be sorted and packed into lovely goody bags by a team of dedicated volunteers. These bags would then be distributed to sick children in hospitals right before Eid.


Response has been overwhelming as people contributed generously, say organisers . PHOTO: ZAIRAH MAHER

Maher knows toys alone cannot alleviate the various problems faced by the children or their parents. "But I know for a few hours, that one toy or colouring book or play dough can help distract a child from their own pain. And in that child's happiness, the parents feel relief."

When she took on the drive in Karachi, she did not know where or how far it would go. In her mind, Karachi had more than its fair share of sick kids who might not have so many toys of their own.

"I wanted to show my kids that they weren't the only children who loved and deserved toys and to teach them to circulate compassion and to give generously," says Maher.

Maher roped in a few friends and at that point, 300 goody bags seemed like an ambitious aim. But when Karachi responded, the giving wouldn't stop. In the end, the drive in Karachi reached nearly 900 children with cancer, thalassemia, kidney problems, gastrointestinal diseases and other health issues. That is toys, juices, snacks and books for 900 children and help came from all quarters.

According to the drive organisers in Karachi, the response was unexpected. Even those who had no toys at home to give wanted to chip in so people donated cash, kind and time.

Perhaps the most unlikely group chipping in were Maher's enthusiastic neighbourhood children. "Kids between the ages of three and 12 years largely helped pack 600 bags. As they helped with sorting, washing, and packing, I wanted to show all the children who participated that their every effort counted. It contributed to something bigger," explained Maher.




Dr Talat Nur, a surgeon at South City Hospital, is another person who helped with the drive in Karachi. Nur is familiar with the state of hospitals in Pakistan, especially those run by the government. "They are in such dilapidated conditions, it is possible to offer help at any level."

The Ramazan Toy Drive visited Children's Cancer Hospital, National Institute of Child Health (NICH), and the paediatric wards of Lyari General Hospital and Civil Hospital.

NICH and Lyari were contacted by the toy drive to get a general count of children admitted; they had a difficult time giving an exact number as they had to resort to 'doubling' - that is when hospitals place more than one patient on a bed. At NICH this practice can extend to tripling - for the hospital directors and staff would rather accommodate sick children who come from far flung villages than turn them away.

When Sukaina Ali, the social worker at the Children's Cancer Hospital first heard about the drive, she was pulled in by the name. "I personally like the theme - 'toy drive'. I imagined a ride full of toys would arrive and give kids their favourite ones."

The organisers know it is not always easy to convey the good Ramadan Toy Drive does, but their logic is simple - "When a stranger hands your child a bag of toys, you know at least someone out there cares."

Published in The Express Tribune, August 9th, 2013.
COMMENTS (2)
Comments are moderated and generally will be posted if they are on-topic and not abusive.
For more information, please see our Comments FAQ