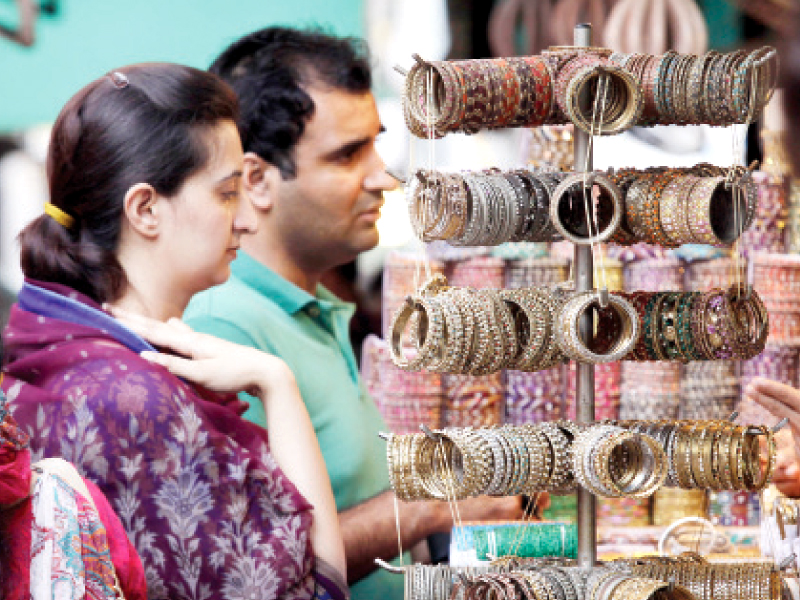 ---
LAHORE:



Kausar Bibi has set up a stall in the Eid bazaar in Y Block Defence which caters to last minute buyers a set of bangles to go with their Eid outfits.




Kausar Bibi has always sold bangles and accessories. She has set up stalls in the same market for eight years. Kausar is expecting a lot of sales on the night after moon sighting.

"Traditionally people come out on the last day of Ramazan for bangles and mehndi. Sales go really well," she says.

But how does she celebrate Eid?

"Obviously I sleep the entire day," she says in a matter-of-fact tone.

She says she returns home early morning after selling bangles all night.

Zafar Khan, a rickshaw driver, takes to the roads on the last day of Ramazan only to return home the next morning.

"We get a lot of fares the entire night," he says.

Khan says the chaand raat work helps him make Rs1000 to Rs2000 extra.

He says the money does not come easy.

"Most customers usually want to travel small distances," he says.

Khan says he usually earns Rs50 to Rs100 per ride and it usually takes him all night to make extra money.

"I don't get to use much of the money on Eid day, it helps me spend a few comfortable days with my family after Eid," he says. This Ramzan, like the ones before, Shazia Bibi spent the 29th Ramazan cleaning houses.

A house maid by profession, Shazia is a mother of two.

Shazia is often on duty on Eid as families she works for often have guests over.

"It usually takes up the entire day since there is so much to be done," she says.

This year, Shazia plans to go to her village near Kasur for two days.

Ashraf Shahbaz, a security guard, will be spending Eid guarding the vacant parking lots and offices on Gulberg's Main Boulevard.

Shahbaz, 40, says he has been on Eid duty for several years now.

He says this year he has also been assigned guard duty on Chaand Raat.

Published in The Express Tribune, August 9th, 2013.
COMMENTS
Comments are moderated and generally will be posted if they are on-topic and not abusive.
For more information, please see our Comments FAQ