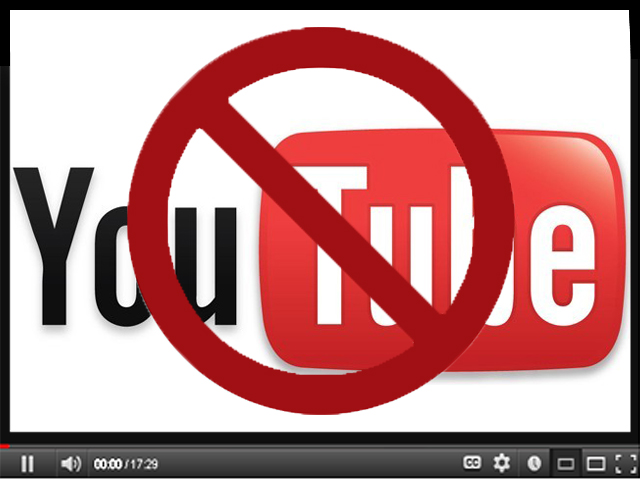 ---
LAHORE: Farieha Aziz, amicus curiae on a case challenging the ban on video sharing website YouTube, told the Lahore High Court that a number of students and other internet users were suffering in Pakistan ever since the website was blocked in the country after the release of a blasphemous video. 

Farieha Aziz, director of Bolo Bhi, was speaking before the Lahore High Court in a petition challenging the ban on YouTube.

Stressing upon the need to reopen access to YouTube, Aziz said that there were 13,049,489 views on YouTube for videos from just six educational institutions in Pakistan that used the website to place their video lectures. The institutions included the Virtual University of Pakistan, The Institute of Chartered Accountants Pakistan, Lahore University of Management Sciences, Quaid-i-Azam University Islamabad, National University of Sciences and Technology, she said.

She said that various Pakistani universities maintained their own YouTube channels on which they posted videos related to academics and school activities. The videos benefit not just students enrolled at specific institutes, but anyone with access to YouTube, she said.

Aziz said that the total number of views for Islamic and educational content on YouTube were 1,199,368,564, while the total worldwide views of the objectionable film, The Innocence of Muslims, on YouTube were 1,965,186, just 0.164 percent of the former.

Additionally, she said that more than one billion unique users visit YouTube each month to watch six billion hours of videos that belong to different categories, most of which contribute to knowledge acquisition.

She said that 70% of that traffic and viewership was from outside of the United States.

Aziz submitted the information under title of 'Internet Usage Study' carried out by Bolo Bhi within a period of six days.

Aziz added that YouTube was used by students in Pakistan as a tool to supplement their academics.

She said that YouTube hosted a diverse range of available content from lectures to seminars, and "how to" videos to documentaries posted by professionals such as TEDTalks and National Geographic. The leading universities in the world also had their own YouTube channels where they post subject-related content, she said.

Giving details of the study, Farieha said that Bolo Bhi conducted the study from July 26 to July 31 on the use of internet in Pakistan, in particular the use of video-sharing platforms. The survey received 250 responses of which 41.60% were students, the highest in number. These were followed by professionals, those employed, entrepreneurs and self-employed, that represented 43.20% of the respondents. Twelve percent were from the media and the academia, while the remaining 3.2% included government and law enforcement officials.

She said that the educational use of YouTube (82.8%) was higher than that of its use for entertainment, which was 76.8%.

Aziz also submitted four letters from different people to the court. The first letter was from the owner of ToffeeTv.com, an entrepreneurial online venture by a team of young women based out of Karachi who develop songs, stories and activities for children between the ages of 0-12 in Urdu.

The second letter was by an IT consultant who had previously been involved in drafting policies on IT and Telecom for the government. In his letter, he indicates the danger in relying on proxies to access YouTube and other banned websites, as they left one's machine open to viruses and malware.

The fourth letter was by a driver by profession, who had access to a computer that his employer owned, stating that he used YouTube to catch up on the news of the day. The letter stated that even though he could not read or write English, he had no difficulty in operating a computer or accessing YouTube, before it was blocked. Each of the four were suffering like many others after YouTube was blocked, she said.

A meeting was held between Bytes for All, the petitioner, and Pakistan Telecommunication Authority on the instructions of the LHC to explore possible technical solutions for blocking and unblocking of the URLs of objectionable content.

Experts of the Ministry of Information Technology, PTA, PTCL, Trans-world Associates, Center for Advanced Research in Engineering, and Internet Service Providers Association of Pakistan attended the meeting.

It was concluded that there were two cable landing station operators in Pakistan, PTCL and TWA, whose traffic did not converge at one single point. Therefore, any blocking efforts would have to be carried out by both operators respectively. The two landing station operators and all major internet service providers were capable of managing and blocking 'blasphemous' URLs, once identified, manually.

PTA's representative stated in the meeting that there was no system within Pakistan that was capable of blocking the trailer to The Innocence of Muslims video without disrupting other internet traffic.