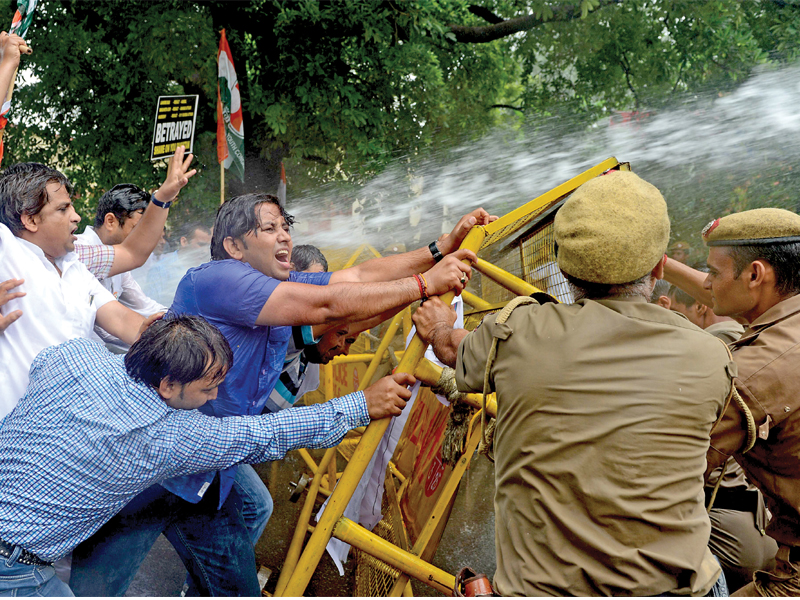 ---
NEW DEHLI/ ISLAMABAD:



As tension flares up between Pakistan and India over an alleged ceasefire violation, Islamabad on Wednesday protested an attempt by a mob to 'attack' its diplomatic mission in the Indian capital.




Hundreds of members of India's ruling Congress party marched on to Pakistan's High Commission in New Delhi to protest against Pakistan Army's alleged cross-Line of Control (LoC) attack on Indian troops in the Poonch sector in the disputed Himalayan state of Kashmir which left five soldiers dead.




The Foreign Office summoned Indian Deputy High Commissioner Gopal Baglay to lodge a protest. Baglay was told that the security of the Pakistan High Commission and Pakistan House was the responsibility of New Delhi. The Foreign Office also asked for security of Pakistani diplomatic staff in India.

Baglay was given a 'note verbale' on the incident.

According to Indian media, supporters of the Congress  Youth Wing climbed police barricades and tried to enter the Pakistani diplomatic mission. The protesters turned violent when police thwarted their march. Police used water cannons to disperse them. Around 175 were detained, but later let off. Similar protests were also organised in other major urban centres of India, including Mumbai and Hyderabad.

Pakistani, Indian DGMOs speak by hotline

Pakistani and Indian military commanders also spoke by hotline on Wednesday to discuss the alleged ambush.

"Pakistan and Indian director general military operations (DGMOs) spoke to each other by hotline this morning," Pakistani military's chief spokesperson Major General Asim Bajwa said in a statement. He added that the Pakistani DGMO strongly and categorically rejected Indian allegations of the LoC violation by Pakistani troops.

Maj Gen Bajwa said the military lodged a strong protest over the violation of LoC by India in Pandu sector, in which Indian fire seriously injured two Pakistani soldiers. "After every Indian violation of the LoC, Indians fabricate something and rather put an allegation of violation on Pakistan to ease pressure," he added.

The Pakistani commander reiterated his side's commitment to the ceasefire agreement of 2003 between the nuclear armed neighbours.

Interior Minister Chaudhry Nisar Ali Khan said that Pakistan wanted peace and security in the region but the Indian media's blame game was spoiling the atmosphere for normalising relations.

In a statement' he said the hue and cry over the latest incident in India was not understandable. He questioned how it was possible for Pakistani troops to go deep into Indian territory and kill Indian troops despite heavy concentration of Indian troops along the LoC.

Indian parliament questions Antony's remarks

The upper and lower houses of Indian parliament were not allowed to function for more than 45 minutes each after being rocked by repeated interruptions relating to the inconsistencies in Defence Minister AK Antony's statement on the LoC clash.

The opposition Bharatiya Janata Party filed a privilege motion against Antony and demanded that talks with Pakistan be called off.

"I had issued a breach of privilege notice against the defence minister for misleading the house and altering the statement of Indian Army. According to this, he was not behaving like the defence minister of India, but rather as that of Pakistan and I brought this up in parliament. The statement was changed after the approval of the prime minster," said senior BJP leader Yashwant Sinha.

Sinha said there was a massive inconsistency in the account of Antony and the defence ministry. While Antony's said persons 'dressed in Pakistan Army uniforms' were involved in the ambush, the defence ministry said "a patrol of Indian Army comprising of one non-commissioned officer and five other ranks was ambushed by a Pak Border Action Team close to the LoC in Poonch Sector of Jammu and Kashmir early morning".

In his defence in the upper house, Antony said: "When as defence minister I make a statement in parliament, I have to clarify on whatever information I have. Today, the Indian army chief has gone to the area, let him come back. If there are some other details, I will convey to you."

On the other hand, Indian Foreign Minister Salman Khurshid sought to downplay the implications of the incident. "We don't want to create a situation that is detrimental and destructive for India's security and peace," he said.

But he added it was 'too early' to say now whether the planned meeting between Premiers Nawaz Sharif and Manmohan Singh on the sidelines of the UN General Assembly meeting in September would still take place.

He insisted Islamabad must take responsibility for the attack. "Pakistan is accountable whatever happens, the distinction between state and non-state actors is not a distinction that we accept," he told India's NDTV network.

Published in The Express Tribune, August 8th, 2013.