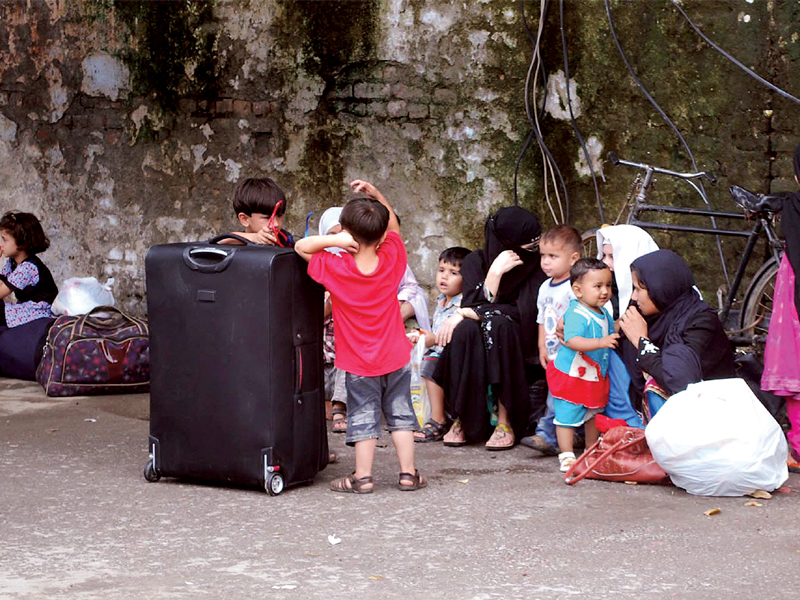 ---
ISLAMABAD:



As the summer fasts draw to a close, the people of the twin cities have started leaving for their hometowns to celebrate Eid with their families.




On Wednesday, almost all major bus stops of Islamabad and Rawalpindi including the biggest terminals at Pirwadhai, Soan, Faizabad and Karachi Company were packed with people who were leaving the city ahead of the four official holidays announced by the government for Eidul Fitr.


Most of the working population of Islamabad return to their hometowns to celebrate Eid and other holidays with their loved ones. PHOTO: MUHAMMAD JAVAID/EXPRESS/INP

"Eid is expected on Friday and I can't take a risk as I have to reach my village by Thursday evening," said Akram Hussain, who was going to his hometown in Khushab district.

Besides bus terminals, the garrison city's railway station was also brimming with commuters as a special train was scheduled to depart for Lahore at 11pm on Wednesday. Railway authorities had announced that extra trains would run at discount rates to facilitate commuters.

The Pirwadhai bus stop was overflowing with commuters as most people had not made reservations and were vying for any available seats. Long queues could be seen at the ticket counter, with arguments and minor scuffles breaking out every few minutes.




The majority of the federal capital's residents have roots in other parts of the country, especially Punjab and Khyber-Pakhtunkhwa. Thus, they leave the city on occasions such as Eid to celebrate it with their loved ones.

The few natives who remain in 'the city that always sleeps' must adjust to the additional gloom caused by the mass exodus.




"This is very happy day for me. I will get to see my children after one whole year while I celebrate Eid with them," said Imdadullah, who was on his way to Muzaffargarh.

Many people were upset with the high fares being charged by transporters — a frequent practice during the holidays.

Muhammad Ramzan was looking for a ride home at Karachi Company bus stop. He claimed that transporters are charging Rs50 to Rs100 extra on different routes this year.

The commuters complained that all over the world, fares are reduced on special holidays to facilitate the public, but in Pakistan, the transporters charge through the nose and exploit poor people

The transporters, on the other hand, claimed that they have only increased fares because the government increased fuel prices.




Muhammad Arbab Niazi, the manager of Niazi Express, a popular bus service, told The Express Tribune that transporters were always unfairly blamed for overcharging commuters on Eid. He said the government had increased fuel prices twice in one month and left the transporters with no choice but to follow suit.

Published in The Express Tribune, August 8th, 2013.
COMMENTS
Comments are moderated and generally will be posted if they are on-topic and not abusive.
For more information, please see our Comments FAQ