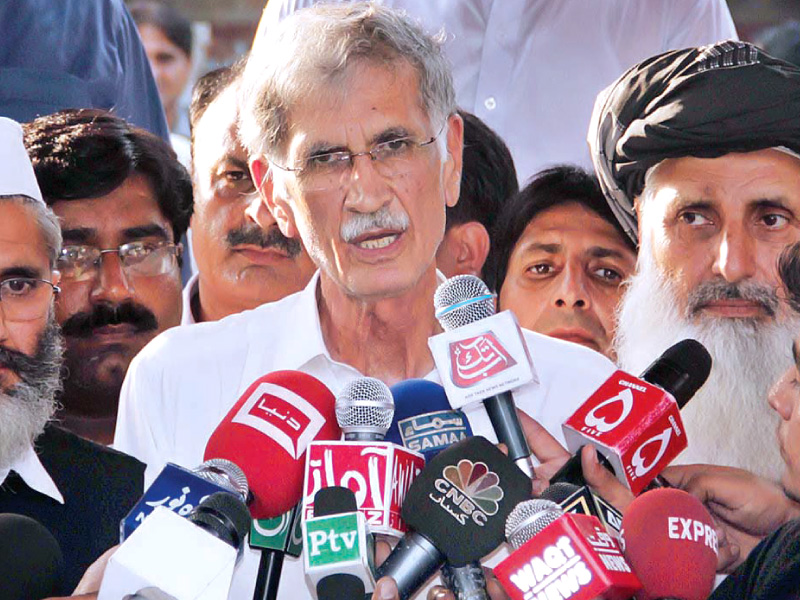 ---
PESHAWAR: The Pak-Afghan border should be regulated for the peaceful repatriation of Afghan refugees, said Chief Minister (CM) Pervez Khattak on Wednesday.

During a meeting with UNHCR official Jackson Frankwin, Khattak said the Khyber-Pakhtunkhwa (K-P) government is working towards the peaceful repatriation of Afghan refugees, but some Afghan citizens later return to Pakistan.




"It is the federal government's responsibility to control the border between Afghanistan and Pakistan. The government needs to prevent the re-entry of refugees once they have crossed the border," Khattak said.

"Our government with the cooperation of the UNHCR will work to return these refugees to their homeland and for this purpose we are also collecting data from Jalozai Camp for internally displaced persons to register Afghan nationals," he added.

The CM said a huge number of unregistered Afghan citizens have made Pakistan their home and live alongside the registered refugees. "A strategy should be chalked out to ensure once refugees cross the Pak-Afghan border they do not come back," Khattak maintained.

Meanwhile, in a separate meeting held with officials of the International Committee of the Red Cross (ICRC), Khattak directed the Home and Tribal Affairs Department to clarify their position on not allowing ICRC to work.

ICRC representative Paul Gestila informed the CM the provincial government had banned the ICRC from working in K-P after which the committee had sent a letter to the home department asking a reply as to why their offices had been shut down in the province.

"Four months have passed since then and the department has still not sent us a reply," Gestila said.




"We were asked by the government to clarify our objectives and nature of work in K-P, which we did via a letter, but the government has failed to respond to it," he added.

Khattak appreciated ICRC efforts and its long-standing services to people and directed the home department to clarify their stance by August 12.

Published in The Express Tribune, August 8th, 2013.
COMMENTS (1)
Comments are moderated and generally will be posted if they are on-topic and not abusive.
For more information, please see our Comments FAQ