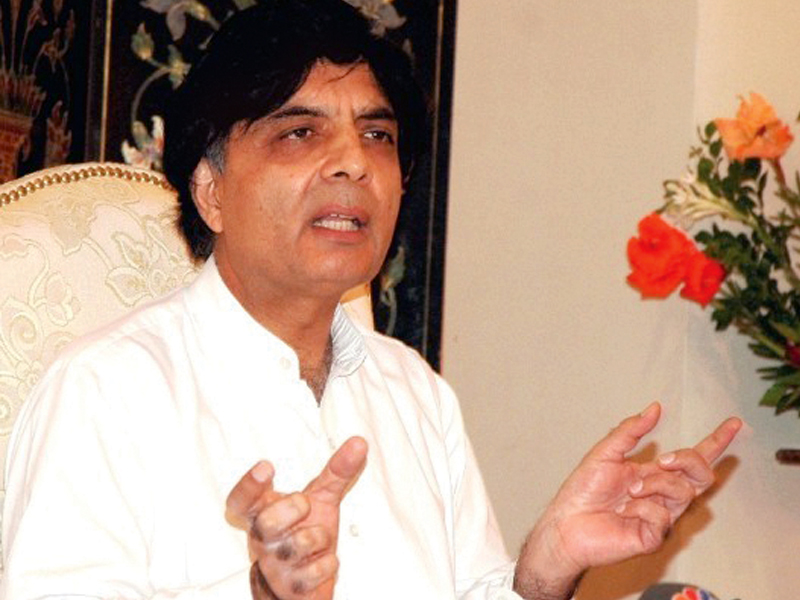 ---
ISLAMABAD: Interior Minister Chaudhry Nisar Ali Khan said on Wednesday that India's anger at Pakistan for the ambush of five of its soldiers was not understandable, Express News reported.

Addressing a press conference, he said that it was counter-productive to find Pakistan Army at fault for the killing of five Indian soldiers in the outpost of Poonch, near Line of Control.

"The area is at least five kilometres away from the Line of Control," he said, adding that it was not possible for Pakistani soldiers to have been there."

At least five Indian soldiers were killed on Tuesday when they were allegedly ambushed by 20 armed militants, the Indian Defence Minister AK Antony had said. The militants were allegedly wearing clothes resembling Pakistan army uniforms. Pakistan though categorically rejected the accusations.

"Even if a cracker goes off in India, Pakistan is blamed for it," complained Nisar.

The Interior Minister added that Pakistan wanted peace in the region, but a blame game played out in the Indian media spoils the atmosphere, Radio Pakistan reported him as saying.

The killing of five Indian troops near the Line of Control have triggered a series of protests in India against Pakistan.

India's main opposition party Bharataya Janata Party (BJP) have demanded that talks with Pakistan be called off.
COMMENTS (66)
Comments are moderated and generally will be posted if they are on-topic and not abusive.
For more information, please see our Comments FAQ