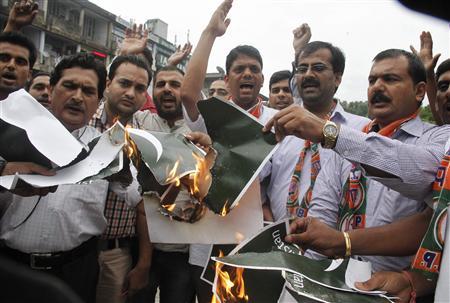 ---
ISLAMABAD: Even as Pakistan strongly rejected Indian accusations of an attack on their post that reportedly killed five Indian soldiers, experts have pointed out that this could set back recent thaw between the two nuclear tipped neigbours.

The incident happens as the two nuclear armed neighbors are prepared to resume their stalled peace talks. However, it is not clear as yet whether the LoC attack may have any negative impact on efforts to normalise ties.

As far as Pakistan is concerned, the foreign office spokesperson Aizaz Ahmed Chaudhry said that the government was committed to a "constructive, sustained and result-oriented process of engagement with India."

"Pakistan looks forward to an early resumption of the dialogue process. It is important that both sides make serious efforts in maintaining the positive atmosphere and avoid negative propaganda," he added.


The spokesperson also said that Pakistan did not wish to descend into a tit-for-tat response. Rather it wanted to strengthen existing mechanisms that would not allow unfounded reports to vititae the atmosphere.

"Pakistan also urges the need for abiding by and strengthening existing military mechanisms to ensure that such ill-founded reports that have the potential of vitiating the atmosphere, are avoided."

Soldiers on patrol

Indian army sources said the attack took place in the early hours of Tuesday about 450 m (500 yards) inside Indian territory, where six soldiers were on patrol. One soldier was wounded.

The killings caused an uproar in parliament and a senior leader of the main opposition Bharatiya Janata Party (BJP), Yashwant Sinha, said the Indian army should give a "befitting reply" to Pakistan. He called on the government to abandon planned talks with Islamabad.

India also made the accusation that Pakistan-based militants were trying to breach the Kashmir border in increasing numbers, reinforcing Indian fears that these groups are turning their focus to Kashmir as foreign troops begin to leave Afghanistan.

The Indian army sources blamed Pakistan's Border Action Team for the latest attack.
COMMENTS (19)
Comments are moderated and generally will be posted if they are on-topic and not abusive.
For more information, please see our Comments FAQ